Refugee Week: 19-25 June 2017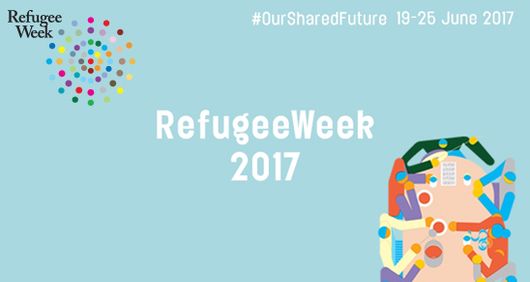 Refugee Week is an annual UK-wide programme of arts, cultural and educational events and activities that celebrate's the contribution of refugees to the UK and promotes better understanding of why people seek sanctuary. Anyone can take part in Refugee Week by organising, attending or taking part in a variety of activities – both on and offline.
The Great Get Together
This year Refugee Week is sponsoring The Great Get Together - a national celebration inspired by Jo Cox MP on the weekend of 16 – 18 June 2017, that aims to be the biggest display of national unity since the Jubilee parties. Jo was a champion of refugee rights and believed that we have more in common than divides us. The Great Get Together is an invitation to celebrate this by holding a gathering in your local community – this could be a street party, a game of football, a barbeque or an afternoon tea. We have put together a Great Get Together toolkit to help you get started.
If you are organising a Refugee Week event 16 – 18 June, we invite you to make your event part of the Great Get Together.
Get involved
If you prefer to attend an event, here's a calendar of events for you to get involved with. Here's more information from the organisers of the Great Get Together, including frequently asked questions and how you can get involved. Refugee Week events will continue throughout the official week, 19-25 June.
Send us pictures and messages
Whether you're holding an event or going along, please do email some photos to gettogether@amnesty.org.uk.
Or, if you're a Facebook, Twitter or Instagram user, please share them with #GreatGetTogether, #MoreInCommon, #OurSharedFuture and tag us with @Amnestyuk.