Iran: Activist sentenced to 24 years in prison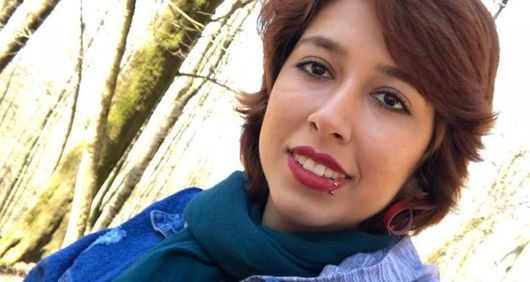 Iranian women's rights defender Saba Kordafshari, 21, has been sentenced to 24 years in prison for her peaceful human rights work – including campaigning against Iran's discriminatory forced veiling laws. If her verdict is upheld on appeal, she would be required to serve 15 years of her prison sentence. She is a prisoner of conscience who must be immediately and unconditionally released.
On 1 June 2019, Saba was arrested by 11 plain-clothes agents at her home. Agents handcuffed Saba's mother, Raheleh Ahmadi, and confiscated Saba's mobile and laptop. Saba was then held in prolonged solitary confinement for 11 days, where she was questioned about her communications with the Human Rights Activists News Agency (HRANA), an Iranian human rights group; including information she had sent to them about prison conditions.Saba was repeatedly pressured to denounce the White Wednesdays campaign against compulsory veiling laws and its founder. 
Background:
Saba's prosecution is part of a wider crackdown on women's rights defenders campaigning against discriminatory forced veiling laws. Yasaman Aryani and her mother, Monireh Arabshahi, were sentenced on 31 July 2019 to 16 years in prison each, while Mojgan Keshavarz was sentenced to 23 years and six months in prison. If these convictions and sentences are upheld on appeal, each woman would be required to serve ten years of her prison sentence.
A growing movement against discriminatory and abusive forced veiling laws has emerged in Iran, with women and girls standing in public places, silently waving their headscarves on the ends of sticks or sharing videos of themselves walking down the street with their hair showing. The Iranian authorities have felt threatened by the strength of this movement and waged a crackdown in response.
In an official statement on 23 February 2018, the police warned that women peacefully protesting the discriminatory and abusive practice of forced veiling would now be charged with "inciting and facilitation corruption and prostitution", which carries a maximum sentence of ten years in prison. Forced veiling laws violate a whole host of rights, including the rights to equality, privacy and freedom of expression and belief. These laws also degrade women and girls, stripping them of their dignity and self-worth.
PLEASE TAKE ACTION until 30 December 2019
Please write using your own words or the template letter provided in the attached documents, in Persian, English, or your own language, to the listed address as soon as possible: 
Head of Judiciary Ebrahimi Raisi
c/o Permanent Mission of Iran to the UN
Chemin du Petit-Saconnex 28
1209 Geneva, Switzerland
Downloads