Eighth update: Activist reports ill-treatment in prison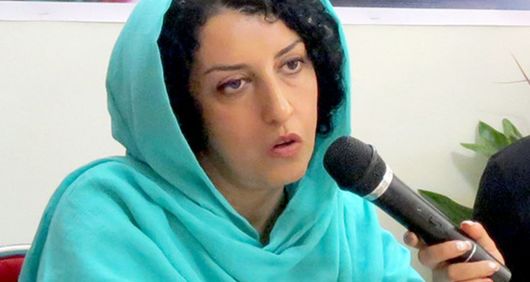 On 24 December 2019, Iranian officials subjected human rights defender Narges Mohammadi to ill-treatment during her transfer to Zanjan Prison, according to a letter she wrote. The transfer was seemingly in reprisal for her activism in prison, in support of families of people killed during protests in November 2019. She is a prisoner of conscience who must be immediately and unconditionally released.
Background:
Security forces used unlawful force in a crackdown against nationwide protests that took place in more than 100 cities across Iran in November 2019, killing at least 304 people, including children, according to credible reports. The majority of the deaths Amnesty International recorded occurred as a result of gunshots to the head, heart, neck or other vital organs, suggesting that security forces were shooting to kill.
The authorities arrested thousands of protesters and subjected some to enforced disappearances, incommunicado detention, torture, and other ill-treatment. The authorities have also threatened and arbitrarily detained some of the relatives of protesters killed, either as punishment for speaking to the media and human rights organisations or to stop them from doing so.
On 21 December 2019, Narges Mohammadi, along with others held in the women's ward of Evin Prison – including Atena Daemi, Mojgan Keshavarz, Monireh Arabshahi, Saba Kordafshari, Samaneh Norouz Moradi, Soheila Hijab and Yasaman Aryani – announced their intention to hold a sit-in from that day, in solidarity with the commemorations being held for those killed by security forces in the November 2019 protests, on the 40th day following their deaths (for more information). On 26 December 2019, Narges Mohammadi issued an open letter describing ill-treatment during her transfer to Zanjan Prison. On 27 December 2019, a state-run news agency reported that the public relations department of Evin Prison had issued a statement denying this.
Taking action
Please take action until 26 March 2020 in Persian, English, or your own language.
Send letters to: 
Head of Iran's State Prison Organization Ali Asghar Jahangir 
Faraz Alley, Northern Wing of Yadegar Imam Highway
Sa'dat Abad, Tehran, Iran
You may also send copies of your letters to your regional embassy. 
Downloads