Detained journalist ends hunger strike due to failing health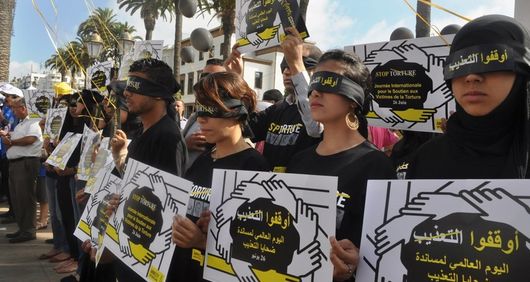 On 31 October 2019, detained journalist Rabie Lablak ended his 45-day long hunger strike, which he started in protest of alleged torture and ill-treatment he has suffered at the hands of Moroccan security officials. The prison administration claims Rabie never informed them of his hunger strike and that his activities prove he was in good health. In April 2019, Rabie Lablak was transferred to Tanger 2 prison after being detained in Casablanca prison in May 2017 for his involvement in the Hirak El-Rif protests.
Who is Rabie Lablak?
Rabie Lablak is one of several Moroccan journalists, activists and human rights defenders sentenced to prison in 2017 for their involvement in peaceful protest, as part of the Hirak El-Rif protest movement in Morocco. He is currently being denied proper medical care in prison.
In June 2018, Rabie Lablak was sentenced to five years in prison for "spreading false information and the usurpation of the profession of journalism", in what his lawyer alleges was an unfair trial.
On 31 October 2019 The National Council for Human Rights (CNDH) announced that Rabie ended his 45-day long hunger strike, due to his declining health. While prison officials claim Rabie never told them he was going on hunger strike, and that his activities prove he is in good health, Rabie's lawyer, Souad Brahma, states that his health is critical.
Rabie's lawyer said he was barely able to walk or talk when she met with him on 25 October 2019, and that he had to be brought to her with the help of two people. She said, "he visibly lost so much weight and his body was so weak".
After his lawyer's visit, Rabie was admitted to the prison's health facility, which his lawyer says is poorly equipped and will not be able to manage his critical state. Prison officials have issued three statements denying knowledge of Rabie's hunger strike.
A group from the Moroccan Council for Human Rights visited Rabie on 20 October 2019. The doctor in charge of prisons at the council was appalled by the state of Rabie's health, agreeing that Rabie urgently needs to be transferred to a hospital. Despite this, Rabie was denied access to proper medical care, putting his life in danger.
On 11 April 2019 Rabie was transferred from Okasha Prison in Casablanca, central-western Morocco, to Tangier 2 Prison in Tangier, north-western Morocco, further isolating him and his fellow detainees from their families. Travelling from Casablanca to Tangier would take roughly three hours and 40 minutes by car. At the time of their transfer, Rabie was on hunger strike, demanding freedom and in protest of an unfair trial.   
Rabie originally launched his hunger strike in protest of torture and ill-treatment he allegedly suffered at the hands of Moroccan security officials.
Scope of the situation
What is Hirak El-Rif? Hirak El-Rif was a mass protest movement calling for social justice and improved public services in the long-marginalised northern region of Morocco. Defence lawyers say many are facing trumped-up charges because of their peaceful protest, dissent or online coverage of the demonstrations.
Since May 2017 police have arrested hundreds of people over the Hirak El-Rif protests, many of them without proper cause. Those arrested include peaceful activists and journalists, like Rabie Lablak. Many of those arrested have already been sentenced to prison terms of up to 20 years on protest-related charges.
Several of the Hirak El-Rif detainees have gone on hunger strikes since 2017, including 35 detainees in Ain Sbaa 1 Local Prison. Some went on hunger strike to protest apparent punishments being used against other hunger-strikers during cell searches and strip searches.
Moroccan officials have repeatedly denied the hunger strikes of Hirak EL-Rif detainees in public, even though several detainees have met judicial officials and been moved to the prison infirmary as a result of their deteriorating health.
Downloads