Communities in Western Colombia threatened by armed groups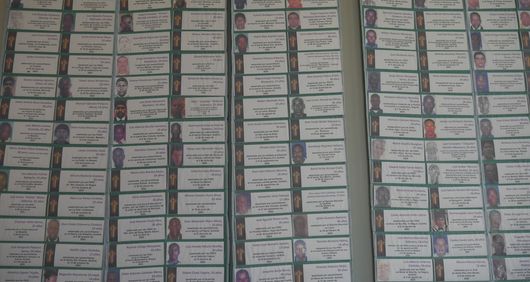 Human Rights Defender, Leyner Palacios, has been vocal about the presence of illegal armed groups around the communities of Bojayá. On 31 December 2019, 300 members of the Autodefensas Gaitanistas de Colombia placed four of the communities in Bojayá under forced confinement. On 3 January 2020, the AGC threatened Leyner Palacios and gave him two hours to leave Bojayá or they would kill him. We urge the Colombian government to take immediate action to guarantee his protection.
Since 31 December 2019, four communities in Bojayá have been forcibly confined by illegal armed groups. Those same groups threatened award-winning human rights defender, Leyner Palacios, giving him two hours to leave the region, or he would be killed.
The Colombian Army has taken some steps to address the situation in Bojayá, but the situation requires further immediate action to ensure the safety of the people of Bojayá, including the safety of Leyner Palacios.
History of violence in Bojayá
Bojayá, Chocó, in north-western Colombia, is a disadvantaged region primarily populated by the most marginalised groups in the country – Afro-Colombians and Emberá Amerindians (indigenous people).
The Indigenous and Afro-Colombian communities in Chocó State, especially those from Bojayá, have faced serious human rights violations throughout the years of conflict in Colombia – including forced displacement, mass killings, among other human rights violations, occurred at the hands of guerrilla, paramilitary groups and the army.  
Communities within Chocó saw more than 15,000 deaths during the 52-years of violence and exploitation between guerrilla and paramilitary forces. Bojayá suffered violence from both sides.
Who is Leyner Palacios?
Leyner Palacios is a survivor of the 2002 Bojayá massacre, and award-winning human rights defender. The massacre led Leyner to become an important social leader, advocating for the Revolutionary Armed Forces of Colombia (FARC) to recognise their responsibility in the massacre. As a result of his advocacy work, the FARC has since issued an apology to the communities of Bojayá.
As a result of his work, Leyner has received several threats from illegal armed groups. In 2018 Leyner received a phone call in which a man told him to "stop bothering with this tale of peace". Leyner was then told that they would kill him if he didn't get out of Bojayá.
Leyner filed a report with the police in July of 2018 and received a second threatening phone call in August. This time the man on the other end of the call told him, "you are going to die".
For his work representing the Bojayá massacre victims during the peace negotiations, Leyner was nominated for the 2016 Nobel Peace Prize and was the 2017 winner of the Global Pluralism Award.
Above photo features victims of the past conflict in Chocó.
Downloads