Refugees and migrants risking their lives to get to Europe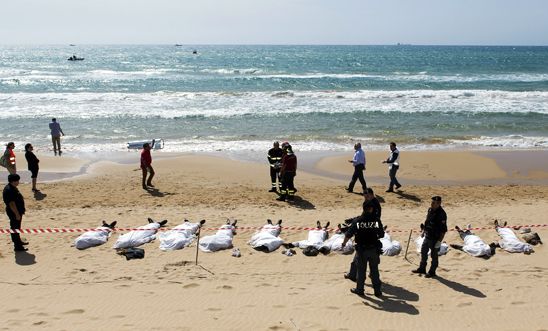 Rescue workers stand next to bodies of migrants who drowned off the coast of Sampieri, Sicily, 30 September 2013 © REUTERS/Gianni Mania
Refugees and migrants are risking their lives to reach Europe. Many have fled conflict and poverty. If they make it to the borders, they are often met with violence and ill-treatment. Again and again their human rights are denied.
Punished for fleeing conflict and poverty
People come to Europe for different reasons. Many are fleeing persecution or war and hoping to seek shelter as refugees in Europe. Others are migrants, leaving behind poverty and hoping for a better future for themselves and their families.
Lives are being lost and human rights denied as European Union (EU) member states invest heavily in policing borders at the expense of treating those approaching borders fairly and humanely.
'I was more afraid of the Greek police than the military in Syria'
Syrian refugee fleeing conflict, December 2013
The EU's priority appears to be to prevent people from entering its territory at all costs, even if those people are in need of safety and protection. The European Commission allocated Greece more than 10 times the budget to keep refugees and migrants out from 2011 to 2013 than to assist their reception. No matter how high European countries build their walls, and no matter how often they shift responsibility to neighbouring countries, people will still be compelled to flee persecution, conflict and poverty by coming to the EU.
EU member states must accept this and work to protect, not punish, those attempting to reach their borders.
Our campaign for a change in European policy
In June, David Cameron met with European heads of states to consider an asylum and migration strategy. In the months leading up to the meeting, Amnesty supporters around Europe called on their representative at the meeting to put human rights at the heart of the strategy.
In the UK, over 5,000 people emailed their MP, asking them to raise the issue with the Prime Minister before he travelled to the meeting.
Thanks to supporters around the UK, over 99% of MPs were emailed by their constituents asking them to support the campaign.
Our campaign was also heard in the House of Commons: during a Home Affairs debate on 10 June, Mark Lazarowicz MP raised these issues with Home Secretary Theresa May, citing our calls and pressing for governmental action.
What we want to see
Ahead of their meeting in June, we called on the European Council to:
Strengthen search and rescue capacity in the Mediterranean to identify boats in distress and assist those on board; end unlawful push-backs and collective expulsions and ensure that those rescued are treated with dignity and have access to asylum procedures where appropriate.
Create safe routes for refugees to Europe. Refugees must not be forced to take dangerous journeys. The European states should make a firm commitment to international solidarity by significantly increasing resettlement quotas
Ensure that human rights are the foundation for any migration control cooperation with third countries; agreements must be transparent, enshrine adequate protection standards, and fully respect the rights of asylum-seekers, refugees and migrants.
Europe's new approach to asylum and migration
At the European Council meeting on 26 and 27 June, the strategic guidelines for shaping the EU's future approach to asylum and migration were adopted. Despite some positive language on human rights, the guidelines fall short in some key areas.
On the three key measures we had called for, we welcome the acknowledgment in the guidelines of the need to increase contributions to global resettlement, particularly considering the Syria crisis. We also welcome the Council's recognition that "it will be crucial to ensure the protection and promotion of fundamental rights... also in relations with third countries".
But the guidelines also propose as a solution increasing cooperation with non-EU countries to prevent refugees and migrants leaving, despite all evidence that prevention and deterrence policies have been failing and have a devastating impact on people.
EU leaders also missed the opportunity to give clear guidance on the need to develop measures that could provide other safe routes (in addition to resettlement) to protection in Europe, and for concerted action to save lives at sea.
Nevertheless, a concerted EU response is a priority for Italy (which holds the Presidency of the EU from July to December 2014) and is urgently needed given the scale of arrivals at sea.
Our campaign continues
We will continue to press European leaders for a human rights-based approach to asylum and migration.
It is crucial that, as the new guidelines are implemented in law and practice, Europe continues to make concrete commitments to protecting the lives and human rights of refugees and migrants on Europe's borders.
We are continuing to document cases where human rights are denied and raise concerns and make recommendations in policy arenas. Our most recent research on the human cost of EU policy at European borders is documented in the report The human cost of Fortress Europe (PDF).