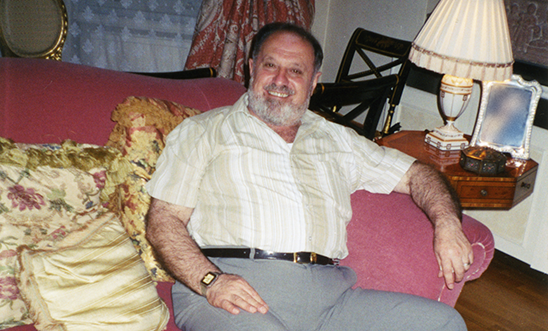 Ramze Shihab Ahmed © Private
71-year-old Ramze Shihab Ahmed is serving a 15 year prison sentence in Iraq after an unfair trial. He was convicted of funding terrorist groups after a hearing that lasted just 15 minutes.
Ramze was arrested in 2009 and held for over a year without charge. For the first four months of his detention he was held in a secret prison, where he claims he was tortured.
Ramze has been on trial nine times. Eight of the nine trials cleared him of all charges.
At his ninth and last trial on 20 June 2012 Ramze was found guilty of funding terrorist groups, using confessions he says were extracted from him under torture. We have serious concerns about how Ramze has been treated since his arrest in 2009, from allegations of torture and culminating in a 15 minute trial.
'I would like to thank all of the supporters that contacted Ramze and shared their grace. I appreciate all the emails that were sent.

'I would like to inform you that I have told Ramze about all the emails and support I have received and he thanks everyone that was there for him and wishes you all the best.

'I thank everyone that helped and wrote for Ramze, this really does help him in his crisis and also helps me feel that there are still good people that want peace.'
Rabiha, Ramze's wife - January 2012
Family man
Ramze went to Iraq in November 2009 to help his son who had been arrested two months before. On 7 December 2009, he was arrested while having dinner at a relative's house.
None of his family knew where he was being held until 25 March 2010, when he managed to call his wife from prison. 
He told her he was being held in a prison in the old Muthanna airport in Baghdad and that she should alert the British authorities straight away. The phone conversation was immediately cut off.
Tortured
In April 2010 he was transferred to al-Rusafa prison and he described the torture he endured in the secret Mathanna prison. His torture included having a plastic bag held over his head until he nearly suffocated, being suspended by his ankles and being given electric shocks, including to his genitals.
Following repeated torture he eventually signed a 'confession' which incriminated him. This was then used as evidence to convict him at his trial in June 2012.
Politically motivated charges
Ramze has stood trial nine times since March 2011. At eight of these trials he was cleared of all the charges against him.
The Iraqi government has ordered the arrest of a number of Arab Sunnis, including officials and conducted trials against ex-army officers. 
Because Ramze is an ex-general from the Arab Sunni community we believe that his prosecution may be politically motivated. 
Unfair trial
At his trial on 20 June 2012 when he was convicted the hearing lasted just 15 minutes. His lawyer was not given the opportunity to challenge the prosecution's case, cross-examine prosecution witnesses, or even call his own witnesses.
'There have been promises that they won't use the 'confession' against him in the trial but I know that they do this all the time in Iraq and I'm really, really worried for him. "He's not a young man, his health is not good and he's been tortured.'
Rabiha, Ramze's wife - February 2011
The court did not exclude Ramze's 'confession'  which he says was extracted under torture and relied on information provided by a secret informant, which Ramze's lawyer didn't get a chance to question. The court also considered statements made by another individual which were also allegedly obtained under torture.
Prisons in Iraq
According Iraqi law, people must be questioned within 24 hours of their arrest and after being informed of the charges against them.  However all too often this doesn't happen and people are kept in prison for months or years without trial or being informed of the charges against them.
In 2010 we estimated 30,000 detainees were being held without charge or trial in Iraqi prisons.
Torture is also against the law in Iraq but it is widely used to get people to 'confess'. In many cases confessions are already prepared and detainees sign them while being blindfolded and can often be the only evidence against a detainee.