Qatar: The grim reality behind the World Cup 2022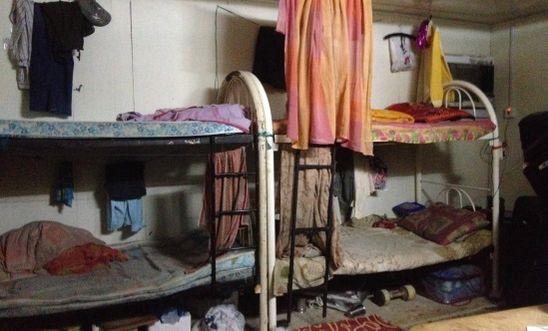 Accommodation of migrants working on the construction of stadiums and infrastructure for the 2022 World Cup in Qatar © Amnesty International
It's four years since Qatar won the right to host the 2022 World Cup. Since then, the Qatari government has done very little to stop the abuse of migrant workers hired to construct the infrastructure for the tournament.
The industry is rife with abuse. Over the past year, we've exposed the widespread exploitation of migrant workers in Qatar – one of the world's wealthiest countries.
Arriving in Qatar, many workers find the terms and conditions of their new construction jobs are much different to those they had been promised.
They are being forced to live in squalid conditions, exposed to overflowing sewage, left unpaid for months and prevented from leaving the country by their employers – and some driven to the brink of suicide.
Time is running out
The pressure has been on Qatar's government and World Cup organisers who are already under fire over corruption allegations.
In May 2014, they announced a series of reforms to tackle exploitation ahead of the 2022 World Cup. Despite acknowledging the grim reality for migrant workers, the Qatar government has only made minimal progress on these plans.
With the construction of World Cup services well underway, Qatar has little time left to ensure the tournament is not built on exploitation and forced labour.
'Despite making repeated promises to clean up its act ahead of the World Cup, the government of Qatar still appears to be dragging its feet over some of the most fundamental changes needed, such as abolishing the exit permit and overhauling its abusive sponsorship system.'
Sherif Elsayed-Ali, Amnesty's Head of Refugee and Migrants' Rights
Exploited by the system
Qatar operates a sponsorship system or kafala that ties workers to their employers and puts them at risk of forced labour.
Every migrant worker in Qatar must have a sponsor, who must also be his or her employer. Migrant workers cannot change jobs without the permission of their sponsor.
If they leave without permission, they are considered to have absconded – a criminal offence – and could face detention and deportation. 
Migrant workers cannot leave the country without their sponsor's permission or 'exit permit' – a blatant human rights violation that can leave exploited migrants stranded and unable to leave the country.
Under the Labour Law, migrant workers are also prohibited from joining or forming trade unions.
What we're calling for
Qatar must make comprehensive reforms to comply with its human rights obligations. As an immediate first step, we're calling on the Qatari authorities to:
abolish the exit permit
launch an independent investigation into the causes of migrant workers' deaths
drop the fees preventing workers raising court cases against employers
publish the names of exploitative recruiters and employers
give domestic workers the legal protection of labour rights afforded to other workers
We'll continue to monitor Qatar's progress in addressing these and other issues in the next six months.