Yemen: UN must ensure civilians in Hodeidah are protected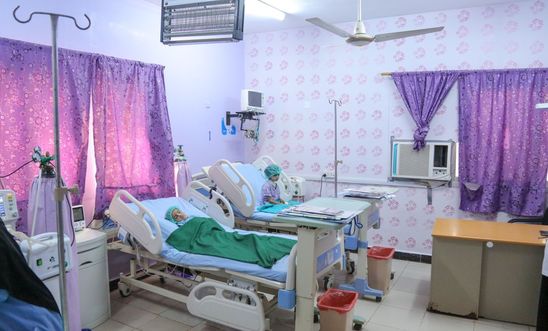 Children being treated for acute malnutrition at al-Thawra hospital in Hodeidah, which came under attack last weekend © UNICEF
Security Council set to discuss the crisis at 8pm this evening
'Hodeidah remains on a knife-edge' - Sherine Tadros 
The UK is 'just part of the problem' unless it halts arms sales to Saudi Arabia
Civilians in Hodeidah are facing a military onslaught unless the UN Security Council acts this evening to press the warring parties in Yemen to protect civilians and ensure full humanitarian access, Amnesty International said.  
The Security Council is set to discuss Yemen's conflict and the humanitarian crisis this evening (8pm UK time).
Thousands of civilians are at grave risk from both sides' use of indirect explosive weapons such as mortars and artillery, said Amnesty. These weapons are indiscriminate when used in populated areas due to their imprecise nature and wide-area effects.
Huthi forces have militarised at least one hospital in Hodeidah city and have mined several routes out. Increasingly, they are embedding themselves in civilian homes in heavily-populated areas, a tactic likely to draw Coalition fire into civilian neighbourhoods. Coalition attacks have also impacted central areas of the city, including around al-Thawra hospital last weekend, an assault which caused hundreds of patients and staff to flee in terror. Al-Thawra hospital was struck again later this week, by shells of unknown origin.
The fighting in Hodeidah is blocking access to aid warehouses and other humanitarian facilities, further exacerbating the already dire humanitarian situation for millions of Yemeni civilians. The World Food Programme has said that clashes near Kilo 10 on the outskirts of Hodeidah have prevented it from accessing the Red Sea Mills, where 51,000 metric tons of wheat grain is stored - enough to feed 3.5 million people for a month.
Meanwhile, Hodeidah's port is crucial to a country that depends on imports to meet 80% of its basic needs. Amnesty has previously warned that a serious interruption to the port's operations would further exacerbate what is already the world's worst humanitarian crisis, with 14 million people - half the population - teetering on the brink of famine.
Despite agreeing to do so in September, the Saudi Arabia- and UAE-led Coalition have failed to establish humanitarian corridors for civilians fleeing from Hodeidah. Only one passable route - to the north - remains, and if this is cut off civilians will be fully encircled in a conflict zone. Those who have managed to flee the city have joined 445,000 civilians from across Hodeidah governorate who have been displaced by violence since June.
Sherine Tadros, Head of Amnesty International's UN Office in New York, said:
"The Security Council must demand that all sides protect civilians by respecting international humanitarian law. They must ensure the unimpeded flow of aid and essential goods, including via Hodeidah port.

"Even with the lull in fighting in recent days, Hodeidah remains on a knife-edge and the ominous fear of mortal danger looms large. 
"Hundreds of thousands of civilians trapped near frontlines must be protected amid the fighting and granted safe passage out of the city.

"Bombs and bullets have killed thousands of civilians across Yemen, while the crushing descent into the world's worst humanitarian crisis has placed many millions of already food-insecure people at imminent risk of famine. 

"All states, including permanent members of the Security Council like the USA, UK and France, should halt the flow of arms for use in the conflict and do everything in their power to prevent further violations - otherwise they are just part of the problem. And they should make clear that those responsible for war crimes in Yemen will be held to account." 
Amnesty's call on the International Trade Secretary Liam Fox to halt arms exports to Saudi Arabia has received the support of more than 25,000 people.