Yemen: UK must stop arming Saudi Arabia or risk being complicit in 'collective punishment'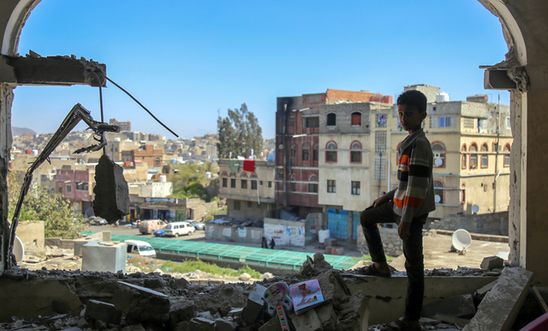 Thousands of civilians have been killed and injured in airstrikes, millions more face starvation © AHMAD AL-BASHA/AFP/Getty Images
Blockade has left millions of people on brink of starvation
'Countries such as the USA, UK and France … risk being complicit in grave violations, including war crimes' - Philip Luther
The UK, the USA and France must immediately cease supplying arms to the Saudi Arabia-led coalition fighting in Yemen, which is impeding humanitarian assistance to the country, said Amnesty International today.
Food and medicine are being blocked and vital supplies will run out in a matter of weeks, according to the UN and humanitarian agencies.
 
Since the Saudi-led coalition tightened the blockade after a missile was fired at Riyadh earlier this month, 29 ships carrying essential supplies have been prevented by the coalition from reaching Hodeidah port. Amnesty believes that mitigating measures announced by the coalition, such as opening Aden's port, are woefully inadequate to meet humanitarian needs. More than 20 million people are now living in dire need of assistance. 
As of 15 November, the blockade has prevented nearly 500,000 metric tons of food and fuel from reaching Hodeidah port, according to the UN. 
Since 2015, all parties to the conflict in Yemen have committed serious violations of international humanitarian law and grave human rights abuses. The lives of civilians have been devastated by indiscriminate bombing and shelling, arbitrary detentions and enforced disappearances. 
Philip Luther, Amnesty International's Middle East Research and Advocacy Director, said:
"The looming prospect of famine is becoming a reality because of the new restrictions by the Saudi Arabia-led coalition, which appear to amount to collective punishment of Yemen's civilians.

"Countries such as the USA, UK and France, which continue to supply coalition members with arms, are allowing Saudi Arabia and its allies to flagrantly flout international law and risk being complicit in grave violations, including war crimes. 

"All countries must immediately halt the flow of arms and military assistance to members of the Saudi-led collation for use in Yemen. This includes any equipment or logistical support being used to maintain this blockade."
Court ruling in July
In July this year, the High Court ruled that the UK Government is entitled to continue authorising arms supplies to Saudi Arabia despite numerous reports of Yemeni civilians being killed and injured in Saudi-led coalition airstrikes in the country - a ruling described as "deeply disappointing" by Amnesty.
In the first six months to 2017, the UK reportedly sold over £1.1bn of military equipment to Saudi Arabia. Recent Department for International Trade figures show the UK sold £836m of arms and military hardware to Saudi Arabia between April and June - up from £280m between January and March. 
Meanwhile, last year, Amnesty revealed that the Saudi-led coalition had used UK-manufactured cluster munitions in Yemen. One UK cluster bomb - a BL-755 - had apparently malfunctioned and left scores of deadly unexploded "bomblets" strewn over a wide area near a farm in Al-khadhra village in Hajjah governorate, six miles from the Saudi Arabia border. A local farmer reported seeing the cluster bomb attack in January 2016. For months after this, the UK Government denied that there was reliable evidence of the use of UK cluster munitions by the Saudi-led coalition in Yemen, but in December the former Defence Secretary Michael Fallon told the House of Commons that Saudi Arabia had given the UK a commitment over ceasing its use UK cluster bombs in Yemen.