Yemen: UK minister's remarks over UK arms 'far too relaxed' as civilian death toll mounts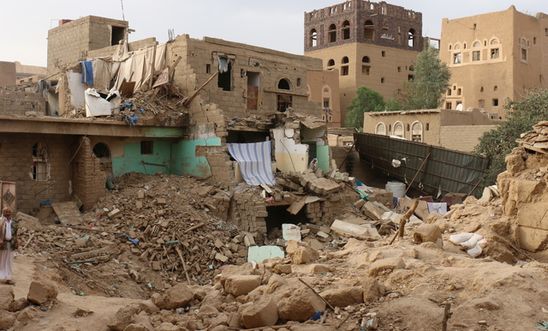 Civilian homes destroyed by Saudi Arabia-led coalition airstrikes in Sa'da Old City this year © Amnesty International
'Mr Ellwood is far too relaxed about the horrible civilian death toll in Yemen' - Kate Allen
Responding to today's remarks during a parliamentary debate by the Foreign Office minister Tobias Ellwood that weapons supplied by the UK to Saudi Arabia have "probably" been used in the conflict in Yemen, Amnesty International UK Director Kate Allen said:
"Mr Ellwood is far too relaxed about the horrible civilian death toll in Yemen. 

 

"The government has previously said that it simply relies on Saudi Arabia's 'assurances' over the proper use of UK-supplied weapons by its forces in Yemen, but how can this ever be good enough? 

 

"Mr Ellwood only needs to read our recent report on Yemen - with its evidence of the reckless nature of the Saudi-led coalition's bombing campaign in Yemen - to set off the alarm bells

 

"Instead of sitting back and hoping for the best over Saudi Arabia's use of our weaponry in the blood-drenched conflict in Yemen, he should be suspending all further arms exports to Saudi Arabia and announcing an urgent investigation into whether UK arms have been killing civilians in their hundreds in Yemen."
The UK, which is a major supplier of arms and other military equipment to Saudi Arabia, has recently diverted a consignment of 500-pound "Paveway IV" bombs to Saudi Arabia. The weapons are used by Tornado and Typhoon fighter jets, both of which are manufactured and supplied to Saudi Arabia by the UK arms company BAE Systems. The Tornado and Typhoon jets have been used by Saudi Arabia in its military operations in Yemen. When pressed on the matter, UK ministers have previously said that Saudi Arabia has provided it with "assurances" of their proper use.  
Amnesty supporters are
calling on the UK government
to suspend arms sales to Saudi Arabia and other members of the anti-Houthi armed coalition in Yemen.
Parliamentary debate
In today's
debate
in Westminster Hall, Mr Ellwood said that "I can probably confirm that they [British manufactured arms] probably have been used. We sell arms to Saudi Arabia - they are using weapons systems which we then sell. The more pertinent question is are they being used responsibly or not and that is the more important question and we need to make sure they are used in that responsible matter."
Earlier this month Amnesty published evidence of war crimes by the Saudi Arabia-led coalition in a
40-page report
 which examined 13 coalition airstrikes in the city of Sa'da in north-eastern Yemen between May and July this year, attacks which killed some 100 civilians, including 59 children.  More civilians have died as a result of coalition airstrikes than from any other cause during the Yemen conflict and Sa'da has suffered more destruction from airstrikes than any other city in the country. Amnesty's report reveals a pattern of appalling disregard for civilian lives displayed by the Saudi Arabia-led military coalition which has declared the entire cities of Sa'da and nearby Marran - where tens of thousands of civilians live - military targets in violation of international law. In at least four of the airstrikes investigated by Amnesty, homes attacked were struck more than once, suggesting that they had been the intended targets despite no evidence they were being used for military purposes.