Yemen: six children among 25 killed in today's Saudi Arabian-led airstrikes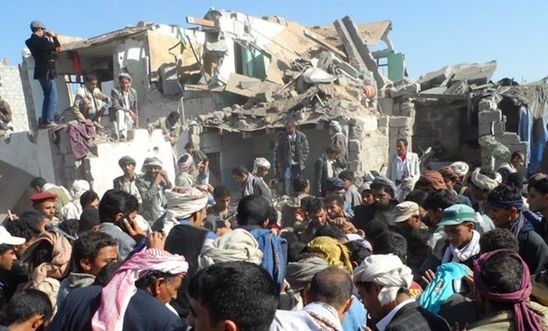 Aftermath of airstrikes that turned 14 houses to rubble near Sana'a International Airport © Zakarya Dahman, courtesy of Yemen Times
'Saudi Arabian and any other armed forces carrying out airstrikes in Yemen are required to take all feasible precautions to spare civilians' - Said Boumedouha
At least six children under the age of ten were among a reported 25 people killed in Saudi Arabian-led airstrikes in the Yemeni capital Sana'a this morning, Amnesty International confirmed after speaking to hospital officials and eyewitnesses. 
Amnesty spoke to medical personnel at four different hospitals where the dead were taken after being pulled from the rubble of 14 houses hit in a residential area near the city's international airport. The rest of those killed were men, mostly in their thirties and forties, while it' is believed that more people may still be buried beneath the rubble. Meanwhile, at least 20 people - including four women - have been admitted to hospital with shrapnel and other injures.
Yemen's Ministry of Health said the airstrikes killed 25 people and injured approximately 40 - it is not yet known if there were any fighters among the casualties. According to a paramedic who witnessed the aftermath, the airstrike near the airport occurred shortly before 3am local time in a residential area called Beni Hawat. Huthi armed groups had allegedly been operating a checkpoint around 100 metres away, as well as al-Dailami base some 500 metres way.
Beni Hawat was among a number of sites in and around Sana'a hit by airstrikes overnight as Saudi Arabia announced it was launching a military intervention against Huthi armed groups as part of a coalition of ten countries. Saudi Arabian officials today claimed they had destroyed "all Huthi air defences" at al-Dailami base next to Sana'a International Airport. Meanwhile the US government said it had "authorised the provision of logistical and intelligence support" to the military intervention, and other governments - including the UK's and Turkey's - endorsed the move.
Amnesty is insisting that Saudi Arabia and other states involved in the airstrikes must investigate whether violations of international humanitarian law were committed. If there is evidence that war crimes were committed, said Amnesty, they must properly prosecute the suspects. 
Amnesty International's Middle East and North Africa Deputy Director Said Boumedouha said:
"Saudi Arabian and any other armed forces carrying out airstrikes in Yemen are required to take all feasible precautions to spare civilians.

 

"This includes verifying that targets are in fact military objectives and giving civilians effective advance warnings unless circumstances do not permit.

 

"The Huthi armed groups and the Yemeni armed forces also have obligations under international humanitarian law to protect civilians under their control from the effects of attacks, including by avoiding, to the extent feasible, locating their fighters and weaponry within residential neighbourhoods."