Yemen: at least six civilians burned to death in latest airstrikes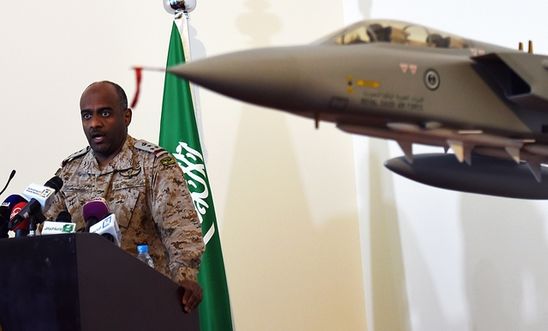 Saudi-led coalition forces' Brigadier General Ahmed Asiri addressing journalists on 26 March © FAYEZ NURELDINE/AFP/Getty Images
Victims include four children in petrol station attacks in Ibb governorate
There is growing evidence that the Saudi Arabian-led military coalition is failing to take precautions to prevent civilian deaths amid ongoing airstrikes in Yemen, Amnesty International said this afternoon, as it confirmed that at least six civilians - including four children - were among 14 people who burned to death in further strikes early this morning. 
The attacks, carried out at around 2am in Ibb governorate, were apparently targeting a Huthi checkpoint as well as fuel supplies along the road between Yareem and Dhammar. Two petrol stations were destroyed in the airstrikes.
The dead included four children and two women, as well as eight men, but it is unknown if any of those were fighters. At least 31 others were hospitalised with burns and shrapnel wounds. According to the owner of one of the petrol stations, in al-Kadima area in al-Kita, several passengers were killed in a car which had stopped to refuel, and a petrol station worker was injured. Amnesty has not been able to ascertain if there were casualties at the other petrol station. 
A third strike, apparently aimed at a passing fuel tanker, set fire to at least three civilian homes within a cluster of around 30-40 dwellings. Dr Hamood al-Jihafi in Yareem hospital told Amnesty how the dead and injured arrived after suffering horrific burns and shrapnel injuries.
The strikes on Ibb come a day after 29 civilians, including children, were killed in airstrikes on a bridge at al-Mazraq camp for internally displaced persons in Sa'ada, in northern Yemen near the border with Saudi Arabia. There have been conflicting reports about the alleged presence of Huthi fighters near the camp, but even if true, this would not justify an attack on a densely-populated civilian area. Meanwhile, al-Kitaf market next to the al-Kitaf Military Base, was targeted on 27 March, where 20 people, including three children, were killed and 16 people were injured. 
Amnesty International Middle East and North Africa Deputy Director Said Boumedouha said:
"After several days of often intense bombardment in several areas across Yemen, it is becoming increasingly apparent that the Saudi Arabian-led coalition is turning a blind eye to civilian deaths and suffering caused by its military intervention.

 

"All forces should avoid deploying or locating military targets or fighters within or near densely populated areas. 

 

"However, the alleged presence of fighters near civilian objects, including camps for the displaced, does not mean warring parties can forget about their obligation to minimise civilian harm."
Precautions include giving effective advance warning of attacks which may endanger the civilian population, cancelling or suspending an attack if it becomes clear that it is likely to cause excessive civilian casualties or damage, and choosing means and methods of attack that minimise the risk to civilians and civilian objects.