Yemen: Huthis bomb civilians and raid hospitals in Aden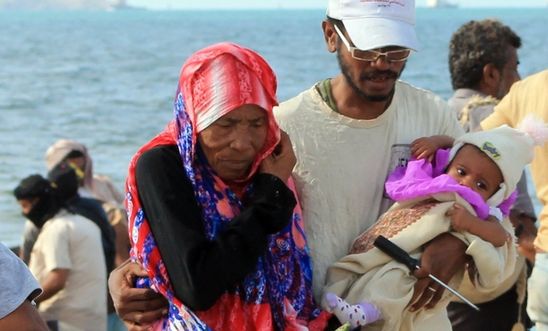 Yemeni civilians on the beach at Tawahi on 6 May © SALEH AL-OBEIDI/AFP/Getty Images
At least 45 people awaiting rescue killed by Huthi mortars on 6 May 
Fewer and fewer people seeking medical assistance at hospitals and clinics for fear of being targeted by snipers
Evidence gathered by Amnesty International suggests that Huthi forces have carried out indiscriminate mortar attacks on civilians and repeatedly targeted medical workers and facilities in the governorate of Aden in war-torn Yemen.
Dozens of civilians were killed and injured in an attack on a port in Tawahi, west of Aden city, on 6 May, where a crowd of more than 400 people were waiting to flee the area by boat. Eyewitnesses have told Amnesty that the mortars used in the attack had been fired from a Huthi-controlled area. Others said Huthi fighters in the area had raided medical clinics and attacked medical workers.
On the morning of 6 May at least three mortars landed on Tawahi port. Several eyewitnesses said the mortars had come from the direction of Hugeif, an area known to be controlled by the Huthis. Some of those waiting at the port were hoping to flee across the Gulf of Aden to Djibouti while others were hoping to cross to Bureiqa, a safer area of Yemen to seek shelter or access hospitals. A local resident said:
 "I saw the whole thing. There were 400-500 people including women, children and elderly people waiting at the port for a boat to come and take them. When suddenly shelling started. The first shell landed in the sea … However, then a second and third followed, landing in the middle of the dense crowd."
He said at least 45 people were killed in the attack, including a woman from Yafi' who was wounded in the head and died on the spot along with her three-month-old baby.  Another young child under six-years-old was also killed. A woman who was waiting with 20 family members also confirmed that three mortars were fired from the Huthi-controlled area of Hugeif. Again she confirmed one mortar fell into the sea and a second and third struck the crowd waiting at the port.
Another eyewitness, Um Mohamed, was waiting for a boat with her sons Mustapha, 20, and Mohamed, 23. Mustapha had an existing shrapnel injury in his hand and they wanted to take him by boat to Mansoura via Bureiqa. She said:
 

"While we waited on the port, shells started landing over our heads. Women and children were screaming. My son Mohamed was hit by shrapnel in the head as he tried to help a child."
Mohamed is currently in hospital in a coma.
Amnesty International Middle East and North Africa Deputy Director Said Boumedouha said:
"Testimony gathered from eyewitnesses in Aden paints a damning picture of the conduct of Huthi forces in and around Aden.

 

"The attack at Tawahi port appears to be either a deliberate attack on civilians who were simply trying to flee the spiralling violence in Aden or an indiscriminate attack. 

 

"The use of imprecise weapons such as mortars in areas packed with civilians is prohibited under international humanitarian law."
Attacks on medical workers and medical facilities 
On the same day as the Tawahi port attack Huthi fighters entered Ma'allah medical clinic in Aden city. An eyewitness said around 12 doctors and nurses were present when five armed fighters led by a "child" of no more than 14 or 15-years-old stormed into the clinic searching for any anti-Huthi Popular Committees fighters being treated. The witness said they also wanted to search the mortuary fridges to check if the body of a fellow Huthi fighter was stored inside. The eyewitness said:
 

"We were afraid for the patients that were present. We are a small clinic, we provide first aid … there were four cases that day from the bombing in Tawahi port, two women, one man and a two-year-old child. The child had shrapnel injuries in his face."  
The medical workers were forced to leave and the clinic was shut down. A local activist told Amnesty that after Huthi fighters seized the clinic they barred medical workers from treating wounded rival fighters. They also prevented doctors from treating a civilian who had been shot by a sniper. They have also taken over al-Jumhouria hospital and Basuhayb hospital.  
Said Boumedouha added:
"By targeting medical facilities and preventing medical workers from carrying out often life-saving work, Huthi fighters have flouted fundamental rules of the laws of war.

 

"Deliberate attacks on health facilities and medical professionals are strictly prohibited and would amount to war crimes."
Growing pattern of attacks on medical staff
According to local residents, first aid staff and medical personnel have repeatedly been targeted by Huthis who have shot at clearly-marked medical vehicles carrying patients and medical supplies. They have also abducted medical workers and seized supplies. One resident told Amnesty that an ambulance driver had been shot at on 13 April. Another medical worker was abducted by the Huthis and allied forces on 7 April and released on 13 April. He said that many others were being held with him. He was released after convincing his captors he was not involved with the anti-Huthi Popular Committees. 
On 27 April, medical staff were forced to leave al-Jamhouria Hospital in Khor Maksar due to fighting in the vicinity, and snipers were also positioned on the rooftop of the Medical College opposite the hospital. According to local activists in Aden, fewer and fewer people are seeking medical assistance at hospitals and clinics for fear of being targeted by snipers. 
The 22 May and Médecins Sans Frontières hospitals, both in Mansoura, are the only medical facilities still functioning in the area. A number of makeshift clinics have opened to deal with incoming cases. 
A five-day ceasefire to facilitate the delivery of much-needed humanitarian aid to the civilian population began yesterday after more than a month of airstrikes by the Saudi Arabian-led coalition, airstrikes which have killed hundreds.