West African regional body should consider Gambia's expulsion over human rights abuse - new report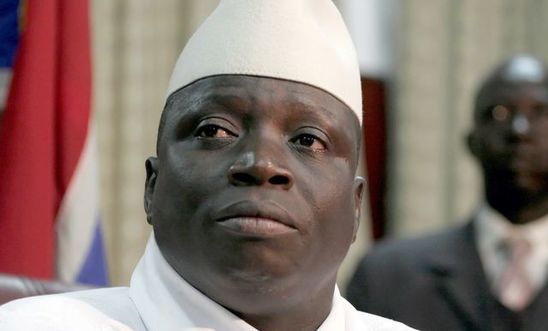 'No one can tell me what to do in my country' - President Jammeh © APGraphicsBank
New report calls for release of dozens of political prisoners and investigations into torture allegations amid latest crackdown in the country
'People die in custody or during interrogations, it's really common' - President Jammeh
Gambia must free dozens of political prisoners and end its crackdown on opposition figures and journalists or face suspension from the Economic Community Of West African States, Amnesty International said in a new report published today.
In its 58-page report, Dangerous to Dissent: human rights under threat in Gambia - launched two days before ECOWAS leaders meet in Dakar - Amnesty has documented how Gambia's opposition politicians, journalists, human rights activists and even "dissenting" government officials have been arbitrarily arrested and harassed.
Amnesty's report documents how Gambia's National Intelligence Agency regularly prints out telephone records of people without judicial authorisation or oversight, and maintains a system of informants to report on the activities of those under surveillance. People interviewed by Amnesty spoke of a general climate of fear in which the majority of people dare not openly speak out against the government.  One civil society activist told Amnesty:
"You don't feel safe anywhere, even in your home. In public spaces you don't speak about sensitive things or in public transport. You are trying to protect yourself and your family and want to keep safe." 
A journalist in exile from the country told Amnesty: "You don't know who is going to report you. You don't know who is behind you. You don't know who is paid by the NIA to be an informant."
Amnesty's report documents the brutal repression of opposition demonstrations in April and May. Dozens of peaceful protesters and bystanders were beaten by police and arrested, and 51 people - including the leader of the United Democratic Party (UDP) and several members of its executive - are currently awaiting trial. At least 36 more people remain detained without charge. One person - Solo Sandeng, the UDP's National Organising Secretary - died in custody after being tortured. Despite appeals by the United Nations, ECOWAS and others, no proper investigation into Sandeng's death has occurred.
On Sunday Gambia's president Yahya Jammeh reportedly dismissed concern over the case, saying: "People die in custody or during interrogations, it's really common. This time, there is only one dead and they want investigations? No one can tell me what to do in my country."
Nogoi Njie, a businesswoman arrested on 14 April and currently detained, described in a High Court affidavit how she was tortured by the feared NIA. She explained how she was beaten with batons by men in black hoods and black gloves while water was poured over her. 
Amnesty International's Regional Director for West and Central Africa Alioune Tine said:
"ECOWAS should speak out on the deplorable situation in the country and engage with the Gambian authorities to secure the release of political prisoners, the repeal of repressive laws and to ensure judgements of the regional Court are fully enforced. 

 

"If the Gambian government refuses to comply, ECOWAS should consider suspension until Gambia's obligations are met."   
Amnesty's report examines patterns of human rights violations since the country's last presidential elections in November 2011, elections ECOWAS refused to monitor due to "intimidation, an unacceptable level of control of the electronic media by the party in power, the lack of neutrality of state and para-statal institutions, and an opposition and electorate cowed by repression and intimidation." The Gambian authorities have long used the country's Public Order Act to prohibit gatherings of opposition parties, although a period of relaxation between April 2015 and April this year was observed before the most recent crackdown. Political opponents have also been arrested and tortured, including three members of the UDP imprisoned since 2013. Meanwhile, new laws have been introduced making online dissent punishable, and media outlets have been forced to close down, with dozens of journalists fleeing the country.
Amnesty is calling on the international community to consider taking measures against Gambia if it fails to make significant progress towards meeting its human rights obligations under international law.
Downloads