'We exist' protest over the LGBTI crackdown in Chechnya at Russian Embassy in London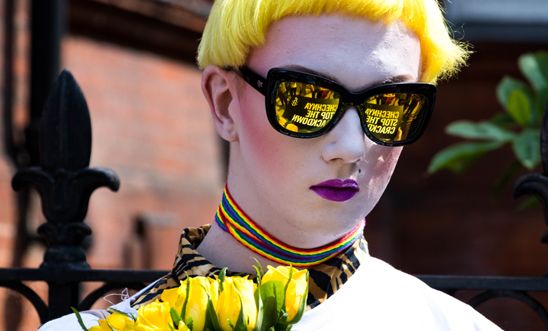 A protester outside the Russian Embassy in London on 2 June © Jon Cornejo
Petition hand-in to embassy as activists in 'We exist' t-shirts respond to Chechen authorities' claim that LGBTI people 'not present' in the republic
FRIDAY 2 JUNE 2017, 11.00am-1pm
Scores of activists will stage a defiant "We exist" protest outside the Russian Embassy in central London on Friday 2 June calling on the Russian authorities to fully investigate disturbing reports of a crackdown on LGBTI people in Chechnya.
In April, credible sources in Russia reported that over 100 men thought to be gay had been abducted, tortured or even killed in the southern Russian republic of Chechnya in what appeared to be a coordinated purge.
Despite widespread international alarm at the reports, the Chechen and Russian authorities initially reacted with denials. A spokesman for the head of the Chechen Republic Ramzan Kadyrov even denied that LGBTI people exist in Chechnya, saying "nobody can detain or harass anyone who is simply not present in the republic". 
In response, activists wearing black "We Exist" t-shirts will congregate outside the Russian Embassy (6-7 Kensington Palace Gardens, London W8 4QP) carrying placards with the messages "Stop the Chechnya crackdown" and "Love Is A Human Right". There will be a giant rainbow LGBTI rights banner and activists will also carry "rainbow rose" flowers to symbolise solidarity with LGBTI people in Chechnya.
There will also be chants of "We're here! We're queer!" and "Stop the crackdown!" A Facebook page has been created, with a #Chechnya100 hashtag being used by campaigners.
Those attending the event will include:  
Kate Allen, Amnesty International UK's Director
Trudy Howson, LGBTI Poet Laureate
Dmitry, Russian refugee
Paul Twocock, Stonewall's Director of Campaigns, Policy and Research
The event, which is being organised by Amnesty International UK and Stonewall and is part of an international day of action to highlight concern on the issue, will also see the hand-in of a 177,000-signature petition to the Russian Embassy - part of a half million-strong global petition - along with a letter to the Russian ambassador to the UK, Alexander Yakovenko. 
The Russian authorities have reportedly now opened a preliminary investigation into the case, but Amnesty is calling on them to proceed to a full-blown criminal investigation, and to take all necessary steps to ensure the safety of individuals who may be at risk in Chechnya.
Kate Allen, Amnesty International UK's Director, said:
"Russia has become increasingly hostile for gay, bi, lesbian and trans people, and this truly shocking crackdown in Chechnya has taken things to a frightening new level. 

"Instead of brushing it aside, the authorities in both Chechnya and Moscow should be fully investigating this utterly appalling case and ensuring that the perpetrators are brought to justice.

"Perhaps the Russian authorities will drop their ludicrous claim that gay people in Chechnya don't exist when they see the crowds outside Russian embassies around the world."
Ruth Hunt, Stonewall's Chief Executive, said:
"The horror in Chechnya has rocked the international LGBT community and we've all felt an urgent need to do something. 

'We're here today on behalf of all the men who are being persecuted, and to show the Russian authorities that LGBT people exist everywhere. 

'Since the news broke, there has been nothing to indicate that the situation has improved or that it's being taken seriously. We know from working closely with the groups affected that the most powerful action we can take is to continue to shine a spotlight on this atrocity. The international LGBT community cannot and will not be silenced. We must have an investigation and we must have justice for the victims."
Edinburgh demonstration
Activists in Scotland will also stage a "We exist" protest outside the Russian Consulate in central Edinburgh (58 Melville Street, Edinburgh EH3 7HF) from 12.30-1.30pm.