Walthamstow's jazz-themed 1920s night taking place on Friday 26 September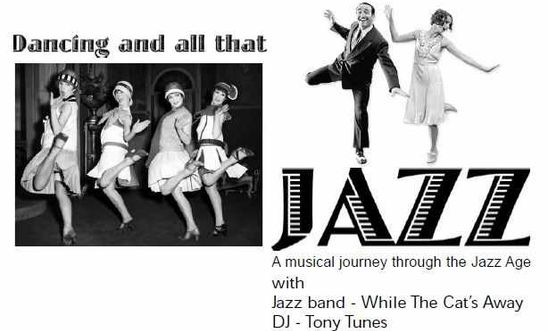 Walthamstow's annual "1920s" theme night will be taking place on Friday 26 September (8-11.30pm) in the ballroom of Orford House Social Club.
The event will see the While the Cat's Away jazz band playing specially-chosen 1920s jazz dance music, which the band will be playing in chronological order while giving the audience on-the-spot information about the songs and their histories.
In between live music sets guest
DJ Tony Tunes
will be playing original 1920s shellac dance records, and some of his original records will be available to buy (see
here
for an example of Tony Tunes in action at the Bestival event).
Two dance experts - Floria and Warren, who helped train dancers for the opening ceremony of the 2012 London Olympics - will be teaching dance steps to the audience and also performing their own dance routine. The audience is invited to attend the event in period costume, and there is a bar with snacks available as well as a stall from noted Walthamstow jewellery makers, Beyond Beading.
Tickets
are priced at £8/£6 student concessions, with all proceeds going to Amnesty International's human rights work. 
The organiser of the event, Inga Wolf, chair of Waltham Forest's Amnesty group, said:
"Hot jazz tunes from the twenties, informed and entertaining performers, and an audience that knows how to dress up and enjoy itself - we're really proud of this event and hope that Walthamstow comes out in droves for this year's 20s bash.

 

"All the money goes to Amnesty so you can do the Charleston in your best tux and tails while raising funds for human rights at the same time."
Note to editors
Orford House Social Club is at 73 Orford Road, Walthamstow, London E17 9QR.