Vietnam: five more jailed in 'relentless crackdown' on freedom of speech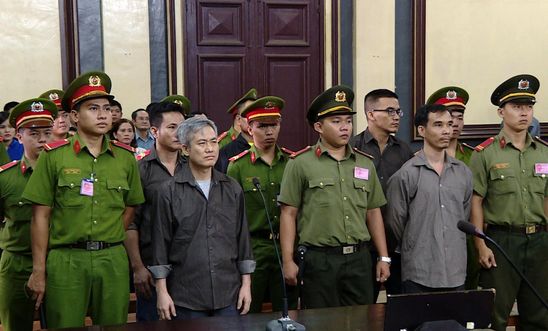 Five peaceful protesters are handed prison sentences © Getty
Thirteen people jailed in past five weeks for 'crimes' such as blogging and using Facebook
More than 100 prisoners of conscience languishing in Vietnam's jails
Crackdown on peaceful dissent increasing in lead-up to new cybersecurity law taking effect
Five peaceful protesters have been handed prison sentences of between eight and 15 years today, after a court in Ho Chi Minh City convicted them of "activities aimed at overthrowing the people's administration".
Luu Van Vinh (sentenced to 15 years), Nguyen Quoc Hoan (13 years), Nguyen Van Duc Do (11 years), Tu Cong Nghia (ten years), and Phan Trung (eight years) have been convicted under Article 79 of Vietnam's Penal Code.
This verdict is the latest in a recent wave of repressive rulings. Amnesty is aware of another eight people jailed last month merely for peacefully exercising their right to freedom of expression.
Minar Pimple, Amnesty International's Senior Director for Global Operations, said:
"This cruel and senseless ruling is clearly aimed at stifling people's right to speak their mind. They should immediately and unconditionally be released.
"Thirteen people have been placed behind bars in the past five weeks for 'crimes' such as blogging, using Facebook and other peaceful pursuits. This is a deeply concerning escalation. These convictions and jail sentences should all be voided immediately, as should those of more than 100 other prisoners of conscience languishing in Vietnam's jails.
"With a new cybersecurity law taking effect in January, Vietnam's leaders are likely to step up their relentless crackdown against their people. It's time to reverse direction and let the people of Vietnam be free to express themselves and enjoy their human rights."
Environmental activism under attack
Luu Van Vinh had been active in peacefully protesting against Chinese maritime activity in the disputed South China Sea and the government's response to the Formosa environmental disaster, a massive toxic spill from a Taiwanese steel plant in Vietnam's Central Coast. His co-defendants are accused of belonging to a small local group founded to promote democracy and human rights called the "Coalition of Self-determined Vietnamese Peoples". Their pre-trial detention - which has taken place since November 2016 - was denounced as unlawful and arbitrary by the UN Working Group on Arbitrary Detention in May this year.