Venezuela: Amnesty demands urgent investigation into crimes against humanity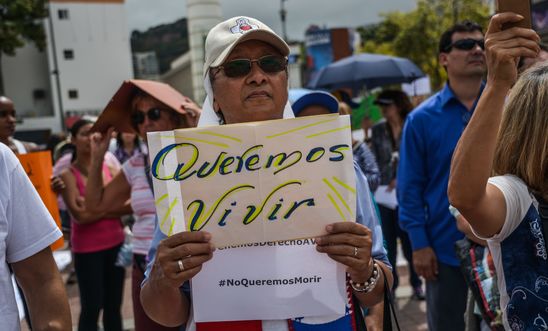 "We want to live" - woman protesting in Venezuela © Roman Camacho
New report details how crimes under international law were coordinated at highest level between state and security forces
Extrajudicial executions, arbitrary detentions, and excessive force used against protesters
47 people killed and 900 detained across just five days in January
'Nicolás Maduro's government must be held accountable before the international justice system' - Erika Guevara-Rosas
The Venezuelan government's systematic and widespread policy of repression implemented under the presidency of Nicolás Maduro since 2017 may constitute crimes against humanity, Amnesty International said today (14 May).
In a new 53-page report - Hunger for justice: Crimes against humanity in Venezuela – Amnesty details how the Venezuelan government has used selective extrajudicial executions, arbitrary detentions, and excessive force against protesters in the country.
The report details how crimes under international law and human rights violations were committed consistently throughout almost every part of the country in January of this year, with a high level of coordination between security forces at state and national levels.
Between 21-25 January, 47 people were killed and 900 detained during protests in the country and since 2015 security forces have carried out more than 8,000 extrajudicial executions.
Crimes against humanity
The crimes documented did not take place at random, nor were they isolated. They formed part of an attack planned and led by the security forces against individuals identified as or perceived to be opponents, particularly in impoverished areas, with the objective of neutralising or eliminating them.
Authorities at the highest level, including Nicolás Maduro, knew about these public and appalling acts and took no measures to either prevent or investigate them. Amnesty therefore believes that covering up these and subsequent events forms part of the policy of repression.
The nature of the attacks in January, in terms of the seriousness of the conduct, the number of victims, the timing and geographical circumstances, the level of coordination by the security forces, as well as the signs of similar patterns in 2014 and 2017, leads Amnesty to believe that the Venezuelan authorities committed crimes against humanity and should answer to an independent and impartial judicial body.
Erika Guevara-Rosas, Amnesty International's Americas Director, said:
"In Venezuela there is a systematic policy of repression against opponents or those perceived to be opponents simply because they are protesting, for which Nicolás Maduro's government must be held accountable before the international justice system.
"We call on all states to urgently show their unequivocal support for the victims of these events and ensure that these crimes do not go unpunished. The international community cannot turn its back on the victims of this unprecedented crisis, whether they remain inside Venezuela or have left the country.
"Faced with grave human rights violations, shortages of medicines and food and generalised violence in Venezuela, there is an urgent hunger for justice. The crimes against humanity probably committed by the authorities must not go unpunished.
"Until there is a clear way forward towards truth, justice and reparations, Venezuela will continue to be mired in this extremely serious human rights crisis and repression that has been going on for some time now. What happened at the beginning of 2019 and more recently at the end of April is proof of that."
Amnesty recommends that the UN Human Rights Council establish a commission of inquiry during its next session in June and July 2019. It also recommends the activation of universal jurisdiction by countries genuinely concerned about the situation in the country. The Office of the Prosecutor of the International Criminal Court, which began a preliminary examination on Venezuela at the start of 2018, should also take these events into consideration.
Investigation details 'an alarming shift in repressive policy'
The serious deterioration in living conditions and the systematic violation of economic, social and cultural rights continue to affect the majority of the population in Venezuela and have forced more than 3.7 million people to flee the country. At least 3 million are in other Latin American or Caribbean countries and many need international protection.  
In February this year Amnesty interviewed dozens of victims of crimes and grave human rights violations committed mainly between 21 and 25 January, a period in which there were mass protests against Nicolás Maduro's government throughout the country.
The investigation demonstrated an alarming shift in the repressive policy towards those who demonstrated against Nicolás Maduro's government, most of whom belong to poor communities.
From 21 to 25 January, at least 47 people in 12 of the country's 23 states were killed during the protests, all of them from gunshot wounds. At least 33 of these people were killed by state security forces and six were killed by third parties acting with the approval of the authorities during the demonstrations. Eleven of the deaths were extrajudicial executions, six of which Amnesty documents in detail in this report.
During these five days, more than 900 people were detained arbitrarily across almost every state in the country. Detainees included children and teenagers. It is estimated that approximately 770 people were detained on a single day, 23 January, the date on which protests were convened throughout Venezuela.  
Since 2014, Amnesty has documented the pattern of the Nicolás Maduro government's policy of repression, which includes the excessive use of force against demonstrators, cruel and inhuman treatment and torture, with the objective of neutralising social protest. Through analysis of 22 cases, the organisation has identified and denounced patterns of arbitrary detentions for political motives that have occurred every year during the Maduro government and has identified at least six prisoners of conscience.
Amnesty has also denounced more than 8,000 extrajudicial executions by the security forces between 2015 and 2017 and gathered detailed documentation on eight cases that showed a similar pattern of attack against young men living in poverty.