Uzbekistan: torture plays 'central role' in justice system - new report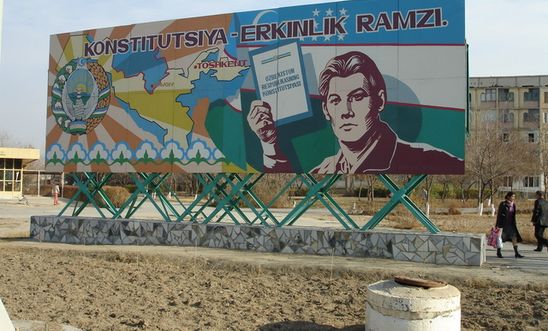 Sign saying 'Constitution - symbol of freedom' © Aleksey Volosevich
One detainee under interrogation was told 'everyone who is brought here is found guilty' 
Major powers - including USA and EU - accused of ignoring Andizhan massacre
The authorities in Uzbekistan have been accused of allowing torture to play a "central role" in the country's justice system, apparently confident that other countries are willing to overlook the abuse in the name of trade or strategic security interests. 
The charge is made in a major new Amnesty International report published today (15 April). The 72-page report - Secrets and Lies: Forced confessions under torture in Uzbekistan, compiled from over 60 interviews - documents the endemic use of torture against political critics, religious groups, migrant workers and business people. Police and security forces regularly use torture to extract confessions, bribes or to intimidate entire families.
The report reveals how sound-proof torture cells with padded walls are used by the Uzbekistani National Security Service (the country's secret police), while underground torture cells are used in Uzbekistani police stations. Both the police and secret police use a battery of horrific techniques, including asphyxiation, rape, electric shocks, exposure to extreme heat and cold, and deprivation of sleep, food and water. Torture also regularly involves prolonged beatings by groups of people, including other prisoners.
One man, Bakhtior (not his real name), who was never told the reason for his arrest, described what happened when he was taken to a police basement after being arrested at his apartment early one morning:
"There were two police officers beating me, kicking me, using batons …They beat me everywhere, on my head, kidneys … When I lost consciousness they would throw water on me to wake me up and beat me again. I opened my eyes and there were five or six people there. I was just in an undershirt and the front was all covered in blood … They beat me bloody … I kept asking what was going on, why, but they didn't answer. Finally they stopped around 10pm and told me not to tell anyone or they would kill me. They let me go without ever interrogating me or saying anything to me."
In another case, a Turkish businessman, Vahit Güneº, who was accused of economic crimes and links to a banned Islamic movement, was tortured and forced to confess:
"One of the prosecutors said: 'Vahit Güneº pull yourself together. In the whole history of the SNB [National Security Service] no one has been brought here and found innocent and released. Everyone who is brought here is found guilty. They have to plead guilty.'" 
Although torture is against the law in Uzbekistan, it is rarely punished. Even the government's own figures show the scale of impunity for torture, with only 11 police officers convicted under Uzbekistani law during 2010-2013. During this time 336 complaints of torture were officially registered, of which just 23 cases were prosecuted and six taken to trial. To make matters worse, the authorities responsible for investigating those complaints are often the same ones accused of torture, severely limiting the likelihood that victims will ever receive justice.
Amnesty is calling on President Islam Karimov to publicly condemn the use of torture and ensure that the authorities establish an independent system for inspections of all detention centres. The authorities must also ensure that confessions and other evidence obtained by torture are never used in court. 
Launching the report in Berlin today, Amnesty International Europe and Central Asia Director John Dalhuisen said:
"It's an open secret that anyone who falls out of favour with the authorities can be detained and tortured in Uzbekistan. 

 

"The attitude of Uzbekistan's international partners to the routine use of torture appears at best ambivalent, and at worst silent to the point of complicity.

 

"As long as Uzbekistan uses torture-tainted evidence in court, it will remain a torture-tainted ally.

 

"What is shameful is that many governments, including the USA, are turning a blind eye to appalling torture, seemingly for fear of upsetting an ally in the 'war on terror'." 
Andizhan massacre ten years on
Though European sanctions were imposed on Uzbekistan after the authorities' mass killing of protesters in the city of Andizhan in May 2005, these were lifted in 2008 and 2009 despite no-one being held to account for the killings. Germany in particular has close military ties with Uzbekistan; in November it renewed a lease for an airbase in Termez to provide support to German troops in Afghanistan, and last month Germany and Uzbekistan agreed a €2.8 trade deal. Meanwhile, in 2012 the USA waived restrictions on military aid to Uzbekistan originally imposed in 2004, restrictions imposed in part because of the country's human rights record. 
Stop Torture campaign
The
Secrets and Lies
report is part of Amnesty's
Stop Torture
campaign.