USA: Trump's Dakota Pipeline decision is 'shameful' sidelining of indigenous people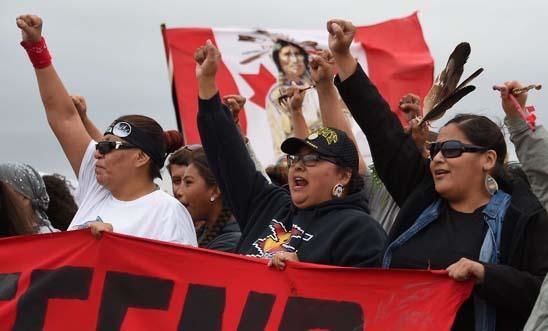 © Protests by indigenous people at the pipeline site have at times been heavily policed
'President Trump is putting indigenous people's access to clean water at risk' - Zeke Johnson
Responding to US President Trump's signing of an executive order advancing the completion of the controversial Dakota Access Pipeline, Amnesty International USA's Individuals at Risk Program Director Zeke Johnson, said:
"President Trump's decision to disregard the serious concerns of indigenous people about the Dakota Access Pipeline is a shameful and unconscionable attack on human rights. 

 

"The US government is obligated under international law to respect, protect and fulfill the human rights of indigenous people like the Standing Rock Sioux Tribe, including the right to access clean water and the right to peacefully protest. 

 

"By choosing to advance the Dakota Access Pipeline, President Trump is putting indigenous people's access to clean water at risk and seems to be sending a signal to the American people that he will prioritise the interests of the extractive industries over people's fundamental human rights. 

 

"The federal government should seek the free, prior and informed consent of indigenous people affected by infrastructure projects before they are approved.

 

"In order to comply with international human rights standards, the President should immediately withdraw his order and respect the US Army Corps of Engineers' decision to carry out its Environmental Impact Statement review of the Dakota Access Pipeline. 

 

"He should also commit to respect the right to protest at Standing Rock and everywhere else, as well as ensure that the Department of Justice opens an investigation into allegations of excessive force by authorities against those opposed to the Dakota Access Pipeline."
Amnesty has sent human rights observers to Standing Rock four times and has previously raised serious concerns about violations of the right to peaceful protest at the site.