USA: Trump must abandon 'unspeakably cruel' plan to close southern border to Central Americans seeking asylum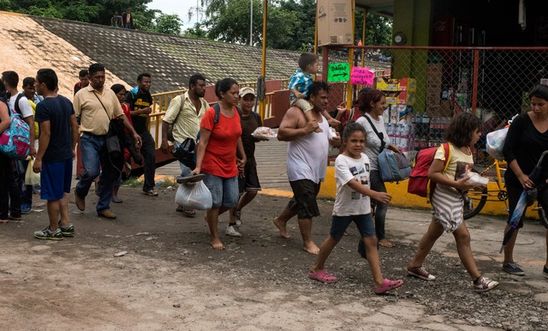 In response to reports that President Trump plans to take executive action blocking refugees and people seeking asylum from Central America from entering the United States for protection, Erika Guevara-Rosas, Americas Director at Amnesty International, said:
"The Trump administration is defying international law and manufacturing a crisis at the border by proposing policies that would cause catastrophic and irreparable harm to thousands of families who had no choice but to leave home in order to keep their children safe from harm.

"President Trump has shown callous disregard for the plight of those making this dangerous journey from Honduras and other Central American countries. His administration must stop waging a deliberate campaign of human rights violations against people seeking safety and immediately recognise that everyone has the right, under US and international law, to seek protection."
Margaret Huang, Amnesty International USA's Executive Director, added:
"Banning people from seeking asylum would be a direct violation of national and international law and put lives in danger. It would be the culmination of years of hateful policies criminalising families seeking protection and would throw desperate people back into harm's way.

"The people whose lives are endangered by this unspeakably cruel proposal are simply not national security threats. They are people just like you and me, except many have been forced to run for their lives from violence and persecution. All they are asking for is a chance to seek safety. They deserve our compassion, not our contempt."
Yesterday, an Amnesty delegation toured a tent city that has hosted thousands of immigrant children - including asylum-seeking children - in Tornillo, a town in Texas. This week, Amnesty also sent a delegation to observe the caravan of asylum seekers and refugees at the border of Mexico and Guatemala, and document both the response of the authorities in both countries.
Huang, who was part of the delegation, said:
"What we witnessed in the Tornillo tent city only highlights the vast tragedy that has already occurred in the United States. US authorities must act immediately to speed the release of more than 1,100 children currently detained there for longer than is legally allowed. We must not continue to fail them by allowing these dangerous proposals to become policy."
Amnesty recently published a new report that revealed the dangerous human consequences of illegal border pushbacks by the Trump administration, and that the number of families separated at the border is much higher than previously disclosed.
For more information: