USA: Obama's drone guidance disclosures 'only tell part of the story'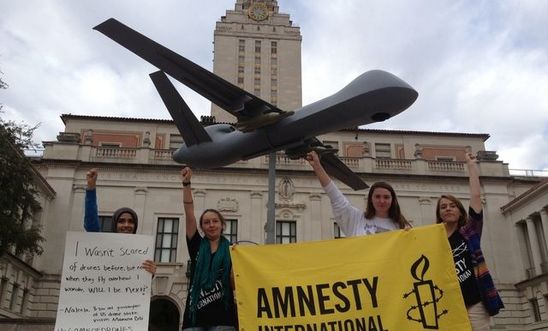 Campaigners say the US government has significantly underestimated the number of civilian deaths in drone attacks © Amnesty International/Flor Montero
'The Obama Administration has still never provided basic information needed to assess the drone programme' - Naureen Shah
In response to yesterday's release of the Presidential Policy Guidance - a document setting out US standards that appears to apply to some drone and other airstrikes overseas - Amnesty International USA's Security and Human Rights Programme Director Naureen Shah said:
"While this policy guidance appears to set an important precedent for protecting civilians and limiting killings, it is impossible to assess whether and how it's been followed. 

 

"The Obama Administration has still never provided basic information needed to assess the drone programme, including the names and identities of people killed in the strikes.

 

"The Obama administration's disclosures are welcome but they only tell part of the story, and obscure disturbing practices. 

 

"We still know extremely little about the standards that would govern signature strikes and so-called rescuer strikes, which have involved potentially unlawful killings."
Last month, following the US Administration's release of figures indicating that between 64 and 116 civilians had been killed by US drone attacks during Obama's presidency - figures that were widely criticised as being a serious underestimate of the true death toll - Amnesty International USA
wrote
to the CIA to urge it to finally acknowledge responsibility for the death of Mamana Bibi, a 68-year-old Pakistani woman who was killed in a drone strike witnessed by her grandchildren in 2012. Amnesty reported on this strike in its 2013 report 
'Will I Be Next?' US Drone Strikes in Pakistan
. Despite extensive documentation as well as worldwide media attention, the US government has still neither confirmed or denied Amnesty's findings, or explained Bibi's death.