USA: halting of Dakota oil pipeline is 'important victory' for indigenous peoples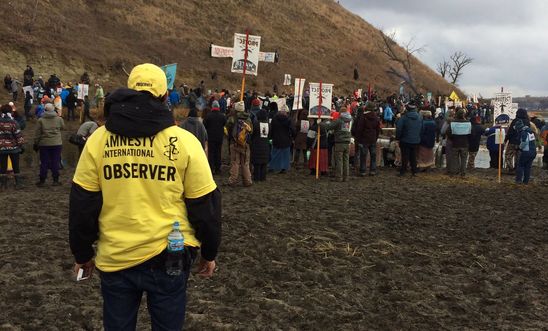 Amnesty observers had monitored aggressive policing at the protests © Amnesty International
'This must only be the beginning of an improved process for projects that affect indigenous populations' - Eric Ferrero
Following reports that the US Army Corps of Engineers will halt construction of the controversial Dakota Access Pipeline under the Missouri River near the Standing Rock Sioux Reservation, Amnesty International USA's Eric Ferrero said:
"This is an important victory for indigenous people who fought to protect the water and their rights.

 

"While we celebrate this hard-fought victory, we also call on Congress to ensure that indigenous communities are always consulted in decisions like this. 

 

"It is critical that indigenous communities be full participants in any decision that may affect their human rights, and the government must seek their free, prior and informed consent before any major infrastructure project moves forward. That was not what happened with the Dakota Access Pipeline, and we are heartened by the government's announcement today.

 

"But this must only be the beginning of an improved process for projects that affect indigenous populations. The world is now watching, and so are we."
Amnesty International USA sent four delegations of human rights observers over the past several months to monitor increasingly aggressive policing of protests near the pipeline construction site, and called for the construction to be halted until the indigenous community gave their free, prior and informed consent to the project.