USA: Call to free man who spent 40 years in solitary, as conviction overturned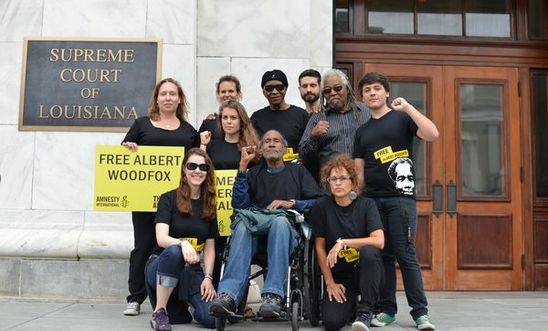 Amnesty USA Rally in memory of Herman Wallace and justice for Albert Woodfox © Angola3
Albert Woodfox has spent more than 40 years in isolation

Conviction against Albert Woodfox has been overturned three times by lower courts
A ruling by a federal appeals court in Louisiana yesterday affirming a decision by a lower court to overturn the conviction of Albert Woodfox, who has spent more than 40 years in isolation after a flawed murder trial, is a triumph for justice that comes decades too late, said Amnesty International. 
The conviction against Albert Woodfox had already been overturned three times by lower courts, the latest in 2013, but he remained in prison after the state of Louisiana appealed each ruling.  Yesterday, the federal judges ruled that he did not receive a fair re-trial in 1998 because of discrimination in the selection of the grand jury foreperson. 
Tessa Murphy, Amnesty International USA Campaigner said:
"After more than 40 years of tirelessly pursuing justice through the courts, Albert Woodfox must now be given his freedom. The state of Louisiana should no longer impede justice but stand aside and allow this decision to stand. 

 

"He has been denied justice and detained for more than half of his life in a tiny cell after a conviction based on dubious evidence and testimonies. This injustice must end now. Albert Woodfox should be released from prison."
Albert Woodfox was convicted, together with Herman Wallace, for the murder of a prison guard in the Louisiana State Penitentiary in 1972. Both men spent most of their time in prison confined in a small cell for 23 hours a day, denied access to meaningful social interaction and rehabilitation programmes. 
They have always denied any involvement in the crime and both said they were falsely implicated in the murder because of their political activism in prison as members of the Black Panther Party. 
There was no physical evidence linking them to the crime and their convictions relied primarily on the dubious testimony of a sole eyewitness who received favourable treatment in prison in return for his testimony. The case against them was based on flawed evidence and riddled with procedural errors that have been extensively documented over the years.
Albert Woodfox's co-defendant, Herman Wallace, was released from prison in October 2013 just days before he died of liver cancer. A federal judge overturned his conviction on the basis of the systematic exclusion of women from the grand jury during his 1974 trial.