US travel ban: Amnesty files FOI request over advice being given to officials in airports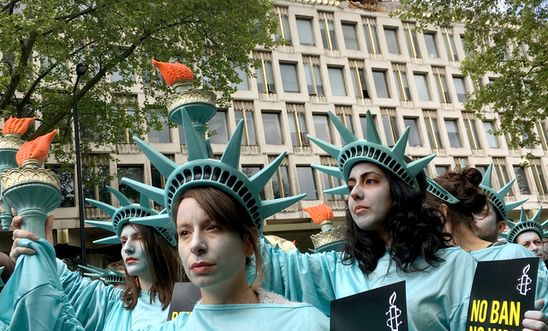 Campaigners outside the US Embassy in London in April © Marie-Anne Ventoura
'We filed this request for documents because people need to know what to expect when they face immigration and law-enforcement officials at US borders' - Margaret Huang
Following yesterday's US Supreme Court decision allowing parts of President Trump's Muslim ban to go into effect, Amnesty International USA has filed a Freedom of Information Act request for documents showing how key federal agencies are intending to implement the ban. 
Amnesty is asking the Department of Justice, Department of Homeland Security, and Department of State and Customs and Border Protection to provide any information concerning the guidance provided to customs and border agents at international airports regarding how arriving passengers will be processed. 
Agencies are legally obliged to respond to such requests in a timely fashion and Amnesty has requested the information within ten working days.
Margaret Huang, Amnesty International USA's Executive Director, said:
"The public needs to know exactly what agents in airports nationwide are being told to do, and we need to know now. 

"This policy is cruel and discriminatory, and it could create havoc in airports in the US and around the world.

"Amnesty International has documented first-hand the horrific conditions that refugees are fleeing, and we've seen the turmoil President Trump's orders created around the world earlier this year. 

"We filed this request for documents because people need to know what to expect when they face immigration and law-enforcement officials at US borders."