UN Security Council should impose sanctions after hospital attacks in Aleppo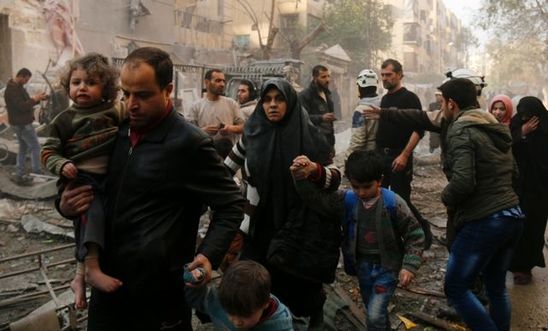 Scores of civilians have been killed and hundreds wounded in recent attacks in Aleppo © AFP/Getty Images
'Nothing can justify deliberate attacks on hospitals carrying out their humanitarian function' - Magdalena Mughrabi 
The UN Security Council should impose targeted sanctions on all those carrying out deliberate attacks on hospitals and other war crimes in Syria, said Amnesty International as it released harrowing testimony revealing how hundreds of civilians, including children, have been killed by intensified Syrian government air strikes since 21 April. 
Amnesty has interviewed doctors and activists in Aleppo, including several who were in the al-Quds civilian hospital when it was attacked by Syrian government forces on 27 April. The eyewitnesses described terrible scenes of destruction, saying that the hospital was well-known and clearly marked and that the nearest military installation was over a kilometre away. 
One doctor who was working in al-Quds hospital when it was bombed told Amnesty that the rocket hit the emergency room, killing 27 medical staff, workers and patients. He said there were more medical staff than usual in the emergency room because of the intensity of shelling in Aleppo that day and the high number of casualties brought in. Another doctor who was in the emergency room described the attack:
"The rocket fell on the door, killing a guard and a medical worker. I did not hear the plane or the strike. I felt an explosion, electricity cut and I woke up with a buzzing sound in my ear. I couldn't see from the dust. I looked at the main emergency door but it was blocked by the destruction. It took me 30 seconds to realise what happened. I heard my colleagues screaming but I completely forgot what I was taught in medical school. At first I did not know how to respond. I saw the general manager and another colleague on the ground screaming and injured. Another staff member had a broken leg. I saw two of the medical team dead, not moving. They were not only my colleagues but my friends as well. We couldn't evacuate the injured from the door because it was blocked but the civil defence team managed to evacuate the injured. Civilians including children and women were killed in the hospital. They were waiting for their relatives in the emergency room." 
Meanwhile, Al-Dabeet hospital, in the Syrian government-controlled al-Mohafaza area, was also damaged in a rocket attack yesterday. It is unclear where the attack came from, but media reports suggest it was from an armed group. A hospital employee told Amnesty that four women were killed and several more injured when a rocket fell outside the hospital, destroying its emergency room. A field clinic in the al-Marji suburb of Aleppo in an opposition-held area was also hit by a rocket on 29 April, though no-one was injured as the clinic was closed.
Amnesty International's Middle East and North Africa Deputy Director Magdalena Mughrabi said:
"Nothing can justify deliberate attacks on hospitals carrying out their humanitarian function. These despicable strikes are the latest in a long bloody line of such attacks that are being carried out with impunity. They must be investigated and stopped.

 

"We have documented how Russian and Syrian government forces systematically targeted hospitals in opposition-controlled areas around Aleppo as a strategy of war. As the ceasefire unravels, such blatant breaches of international law must not be allowed to continue.

 

"It seems as though the tenuous grip that the international community had on this situation with the cessation of hostilities is now slipping out of reach. As the human toll of renewed war crimes continues to grow, so must the urgency with which the international community strives to end attacks on civilians."
Carnage in Aleppo
According to the Forensic Office in the opposition-held part of Aleppo, airstrikes in the city during 21-30 April killed a total of 193 civilians - including 40 children - and injured at least 398 civilians. One activist described a rocket strike on the al-Kalasse neighbourhood on 28 April:
"I saw the bodies of a woman and her four daughters, the eldest was 15-years-old, and her sister-in-law who were removed from under the rubble of a building that had completely collapsed. I also saw the bodies of a man and his two boys, 13- and 12-years-old, removed from under the rubble from the second building. It was devastating. These are our neighbours who we see and talk to on the streets. They died in one minute."
Activists also told Amnesty of about 25 civilians being killed when residential buildings were destroyed by intensified airstrikes in western Aleppo neighbourhoods such as al-Kalasse, Sukari, Ferdous and Bustan al Qasr on 29 April.
Attack on hospitals war crimes
Deliberate attacks on civilians not directly participating in hostilities and on civilian objects, including hospitals and other medical facilities, are serious violations of international humanitarian law and amount to war crimes, with hospitals and medical units subject to special protection. They only lose their protection from attacks if they are being used outside their humanitarian function to commit "acts harmful to the enemy" such as to store weapons.
#360Syria "virtual tour" website
In March, Amnesty launched a #360Syria "virtual tour" website showing the devastation wrought by Syrian government barrel bombing of Aleppo. The site (
www.360Syria.com
) comprises specially-created 360-degree photography, narration, sound recordings, 3-D data graphics and videos gathered by Amnesty-trained Syrian media activists. The site is designed to take the viewer into Aleppo's rubble-strewn streets for an "immersive" virtual reality-like experience. Visitors can navigate around full-screen "photospheres" which capture the apocalyptic scenes and sounds after barrel bombing attacks. The images also feature the brave rescue efforts of unarmed civilian volunteers - the "White Helmets" - from the Syrian Civil Defence teams.