UN: Angelina Jolie cites forthcoming Amnesty report on Yezidi children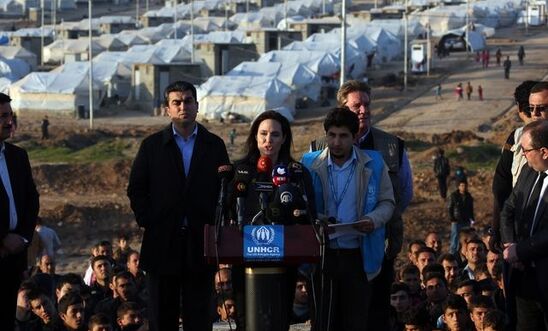 Angelina Jolie visiting a camp for displaced people in Iraq in 2015 © Getty Images
'Promises must be kept' to help child survivors of ISIS atrocities, says Jolie
New Amnesty report out on 30 July 
'The trauma is still very much present for children brutalised by the conflict' - Matt Wells
Speaking to the UN Security Council today, UNHCR Special Envoy Angelina Jolie has cited an upcoming Amnesty International report on Yezidi child survivors of atrocities committed by the Islamic State armed group.
Highlighting the lack of services available for child survivors of sexual violence and other violations, and calling for an urgent increase in international funding and dedicated services for children, Jolie said: 
"Many children were murdered, but nearly 2,000 have returned. Many suffer from post-traumatic stress, anxiety and depression.

"They experience flashbacks and recurrent nightmares that are typical for children who have experienced trauma and abuse.

"Many of the children witnessed the murder of their relatives, and the rape of their mothers."
Jolie said that Amnesty's research showed there was "a lack of dedicated care" for Yezidi child survivors, adding: 
"If we are not able to live up to our promise of a survivor-centred approach for Yezidi children, who make up just one relatively small group of survivors, then how many more children and young adults are suffering in silence at the global level?" 
In a powerful address, Jolie urged the Security Council to fulfil promises to survivors of conflict-related sexual violence, saying: 
"We have to be prepared to admit where we have failed, and do the hard work to support survivors, change laws and attitudes and bring perpetrators to account, over many years …These are all promises that must be kept."
On 30 July, Amnesty will release a major new report called "Legacy Of Terror: The Plight of Yezidi Child Survivors of ISIS" - documenting the experiences of Yezidi children who were abducted, enslaved, tortured, forced to fight, raped and subjected to numerous other horrendous human rights abuses. 
The report will highlight how the national authorities and international community are failing to meet these children's rights and needs related to physical and mental health, education and civil documentation. It also reveals new findings on the situation of Yezidi women who gave birth to children as a result of sexual violence by ISIS members during their captivity. 
Matt Wells, Amnesty International's Crisis Response Deputy Director, said:
"Angelina Jolie was absolutely right to flag the woeful deficiencies in support for child survivors of sexual violence and other horrors inflicted during war. 

"Coming almost six years on from ISIS's onslaught on the Yezidi community, our upcoming report will highlight that, even if the atrocities are in the past, the trauma is still very much present for children brutalised by the conflict."
Embargoed copies of the Amnesty report (and accompanying press release) will be available on 23 July.