UK's torture record 'rightly criticised' by United Nations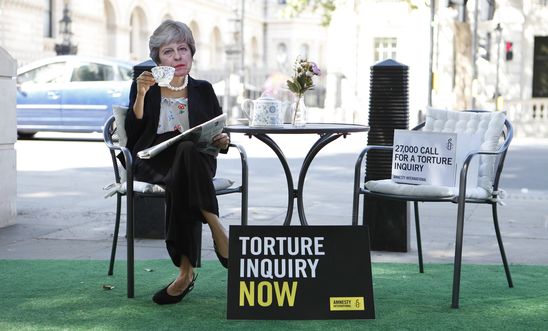 Amnesty called for a torture inquiry to be established by Prime Minister Theresa May.
Amnesty International has said the United Nations has "rightly criticised" the UK's record on combatting torture today.
In its "concluding observations" over the UK's record, the UN's expert Committee Against Torture has today said that the UK should "establish without further delay" an inquiry into the UK's alleged involvement in acts of torture and other ill-treatment of detainees held overseas.
On Northern Ireland, the Committee expressed concerns that conflict-related torture and deaths are not being investigated, with few people being held to account and no redress for victims. Amnesty has long called for human rights compliant-investigations for victims, including for the 'Hooded Men' whose case before Belfast Court of Appeal is awaiting judgment.
The UN experts also emphasised that the UK should "refrain from enacting legislation that would grant amnesty or pardon where torture is concerned".
Earlier this week, Defence Secretary Penny Mordaunt outlined controversial Government plans that would potentially prevent prosecutions in such cases (though excluding Northern Ireland). In response, Amnesty said that "British soldiers who break the law must face it, just like everyone else".
Last year, the parliamentary Intelligence and Security Committee (ISC) published two damning reports into the UK's involvement in numerous cases of rendition and torture. Outlining the scale of the issue - involving numerous cases where MI6 or MI5 suggested, planned or agreed to overseas rendition operations, and more than 200 cases where they sent questions to overseas governments and interrogators knowing or suspecting that detainees were being mistreated - the ISC said it had been blocked by the Government from accessing all the necessary evidence and prevented from conducting a credible, thorough inquiry.
Amnesty has repeatedly called on the UK Government to allow an independent, judge-led inquiry into the issue.
The UN Committee also highlighted the damage caused by the UK's routine use of immigration detention without time limit, as well as the practice of the police sharing victims' data with the Home Office - which deters migrant women suffering gender-based violence from seeking help. Amnesty is calling on the Government to ensure the Domestic Abuse Bill offers protection and support for such women.
Rachel Logan, Amnesty International UK's Legal Programme Director, said:
"The UN has rightly criticised the UK's increasingly worrying record over failing to deal with torture.

"From reneging on a promise to allow an independent judge-led inquiry into the UK's involvement in the rendition scandal to proposing an amnesty for British forces overseas - the UK is failing and failing badly when it comes to torture issues.

"The UK needs to get its act together in combatting torture, including over how it treats torture survivors from overseas in this country."
Grainne Teggart, Amnesty International UK's Northern Ireland Campaigns Manager, said:
"In line with the UK's international human rights obligations, those responsible for sanctioning and carrying out torture, at all levels, must be held accountable and where possible prosecuted. We call on the UK Government to ensure there are no barriers to justice for all victims of Northern Ireland's conflict and make clear there will be no amnesty for human rights abuses, including those committed by security forces."