UK/Iran: daughter of Morad Tahbaz says she hopes Liz Truss has heard family's 'pleas'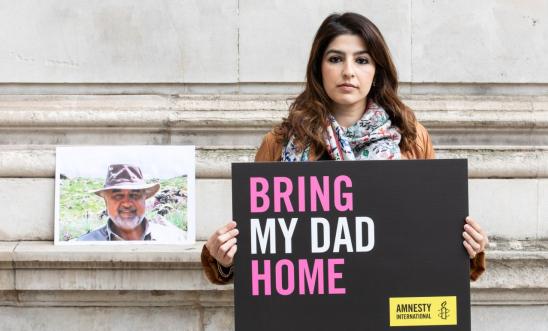 Roxanne Tahbaz outside the FCDO in central London this morning © Maggie Left/Amnesty International
Roxanne Tahbaz stands outside FCDO building calling for Foreign Secretary to 'Bring My Dad Home' 
'My father has been abandoned' - Roxanne Tahbaz
Following a "Bring My Dad Home" call by Roxanne Tahbaz outside the Foreign, Commonwealth and Development Office in central London this morning, Roxanne Tahbaz said:
"We really hope that Liz Truss has heard our pleas - all we want is for her to bring our father home.

"We're delighted for Nazanin and Anoosheh - we're truly happy for them that they've been reunited with their families.

"But my father has been abandoned - it isn't right, it's a devastating betrayal and it must be put right. 

"Our parents must be brought home, urgently and without conditions - we need to be reunited.

"We want to sit down with the Foreign Secretary and her officials to really understand the Government's plan for getting my father home."
Roxanne is the daughter of Morad Tahbaz, a British man arbitrarily jailed in Iran for more than four years. This morning, Roxanne stood outside the FCDO building in Whitehall holding a placard saying "Bring My Dad Home" in an attempt to spur the UK government into taking greater action on behalf of her jailed father (more background here).
Amnesty UK is supporting the Tahbaz family's efforts and has today launched a No-one Left Behind campaign calling for the Government to step up efforts to secure the release of all British nationals arbitrarily detained in Iran.  
Sacha Deshmukh, Amnesty International UK's CEO, who also attended the event today, said:
"The Government's job is only half-done - Nazanin and Anoosheh are home, but Morad isn't and neither is Mehran Raoof. 
 
"We've launched our No-one Left Behind campaign today to keep Morad and Mehran in the public eye and to press the Government to do more. 
 
"It shouldn't need a superhuman effort from the families to jolt the Government into taking action on behalf of British nationals who are arbitrarily jailed in Iran."