Daughter of British man jailed in Iran to stage 'Bring My Dad Home' protest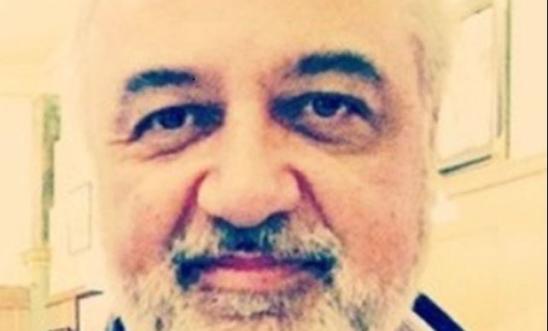 Morad Tahbaz has been in jail in Iran for more than four years © Private
Protest takes place exactly four weeks since release of Nazanin Zaghari-Ratcliffe and Anoosheh Ashoori
'We've been misinformed, misled and abandoned' - Roxanne Tahbaz
'These games hurt too many lives' - Richard Ratcliffe
The daughter of a British man arbitrarily jailed in Iran will stage a protest outside the office of the Foreign Secretary Liz Truss on Wednesday 13 April (10:30am) after what she says has been a "betrayal" of her father Morad Tahbaz by the UK government. 
Roxanne Tahbaz will hold a placard saying "Bring My Dad Home" standing outside the Foreign, Commonwealth and Development Office in central London. 
Amnesty UK is supporting the Tahbaz family's efforts and will launch its No-one Left Behind campaign on 13 April calling for the UK government to step up efforts to secure the release of all British nationals arbitrarily detained in Iran.  
Amnesty UK CEO Sacha Deshmukh will accompany Roxanne Tahbaz at her protest, and will highlight the case of fellow UK national Mehran Raoof, a trade unionist who is also arbitrarily jailed in Iran.  
The Bring My Dad Home protest will take place exactly four weeks since the release of Nazanin Zaghari-Ratcliffe and Anoosheh Ashoori last month. It was widely expected that Tahbaz would be released at the same time, and his family believe the UK government did not do enough to prevent the Iranian authorities returning him to jail after 48 hours of house arrest-style "furlough release" in Tehran.
Tahbaz, 66, who is a US national in addition to his UK nationality and Iranian family background, is a wildlife conservationist arbitrarily jailed - along with seven other conservationists - for more than four years. In 2019, he was given a ten-year jail sentence after an unfair trial. He suffers from serious health conditions, including a history of cancer, and the Iranian authorities have prevented him from receiving the medical care he needs.
In addition to his imprisonment, Morad Tahbaz's wife Vida has been placed under a travel ban by the Iranian authorities. 
Sacha Deshmukh, Amnesty International UK's CEO, said:
"After the euphoria of Nazanin and Anoosheh's release, Morad and fellow UK national Mehran Raoof have been left behind. Liz Truss has let Morad down and is letting Mehran down. The Government's attitude seems to be 'it's job done' now that Nazanin and Anoosheh are back - but this won't be over until all the arbitrarily-jailed British nationals are free and back home." 
Roxanne Tahbaz said:
"Without a shadow of a doubt, Government officials led us to believe that our father would be included in any deal that was being made alongside Nazanin and Anoosheh last month. Even the furlough, which was publicly announced by the Foreign Office, held no merit, as my father is still withering away in prison. The manner in which this has been handled has made us feel completely betrayed - we've been misinformed, misled and abandoned. There's only one way Boris Johnson and Liz Truss can right this wrong and repair the trust we once had in our Government - they need to urgently renegotiate with the Iranian authorities, and this time ensure that they bring our father and mother home without delay." 
Anoosheh Ashoori said: 
"I've said numerous times since I got back that I can't fully savour my freedom while Morad, Mehran and others are languishing behind bars after enduring the same travesty of justice I went through. I'm going to keep speaking about this until Morad and the others are back - just like my incredible family did for me."
Richard Ratcliffe said: 
"It is always bittersweet whenever there's a release for those who are left behind in Evin prison. Nazanin and I remember the feeling - others' happiness that can feel so bleak, can leave you staring blankly at a wall of questions: 'Why? Did we not matter enough?' I hope the UK is still working on a breakthrough for Morad and Mehran that we don't know about, and that the Embassy is going to get to see them in Evin and ensure they are safe in the meantime. I also hope the Foreign Secretary stays true to her word on Nazanin's release and continues the work to end hostage diplomacy and also holds those who practise it accountable. These games hurt too many lives."
Photo opportunity 
WHO: Roxanne Tahbaz, Sacha Deshmukh
WHAT: a demonstration outside the office of Foreign Secretary Liz Truss, with Roxanne Tahbaz holding aloft a large placard saying "Bring My Dad Home" 
-Roxanne will be available for interview before and immediately after the protest
WHERE: FCDO building, King Charles Street, London SW1A 2AH
WHEN: 10:30am (the event will conclude by approximately 11:15am)