UK Supreme Court abortion ruling a 'unique chance' for women of Northern Ireland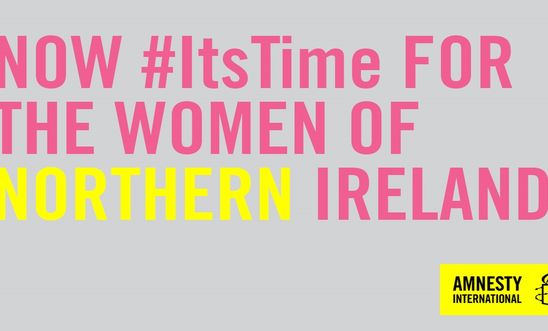 "If the Court rules that Northern Ireland's abortion ban breaches women's rights, there will be no excuses left for Theresa May" – Grainne Teggart
The UK's Supreme Court has today (31 May) announced that it will deliver its ruling on a case which challenges Northern Ireland's extremely restrictive abortion laws next Thursday (7 June).
Amnesty has intervened in the case, providing evidence that the near total ban on abortion in Northern Ireland violates women's human rights. Grainne Teggart, Northern Ireland Campaigns Manager for Amnesty and Sarah Ewart, a woman who was forced to travel to the UK for an abortion after being told her baby would not survive, will be at the Supreme Court on the day of the ruling and will be available for media interviews.
Grainne Teggart, Amnesty's Northern Ireland Campaigns Manager, said:
"If the Court rules that Northern Ireland's abortion ban breaches women's rights, there will be no excuses left for Theresa May - the UK Government will be forced to fulfil its human rights responsibilities and make things equal for the women of Northern Ireland.
"The Supreme Court judges have a unique chance to put right centuries of human rights abuse in Northern Ireland. We hope they take it."
Details: 
The judgement will be delivered at 9.45am, Thursday 7 June, at the UK's Supreme Court, London.
Amnesty spokespeople will be outside the Supreme Court from 9.00am and available for interview immediately after the judgement and throughout the day.
Background information:
In 2015, the Belfast High Court ruled that Northern Ireland abortion law breached women's rights, but that ruling was overturned in June 2017. The case was then appealed to the UK's Supreme Court.
The Supreme Court case is considering whether Northern Ireland's abortion law breaches women's rights by not allowing abortions in cases of sexual crime (rape and incest) and fatal foetal abnormalities.
Amnesty is campaigning for decriminalisation of abortion and a human rights compliant framework. More than 36,000 people have already signed Amnesty's petition calling for the UK Government to act.