UK should halt arms exports to Iraq if there's a risk of abusive militias acquiring them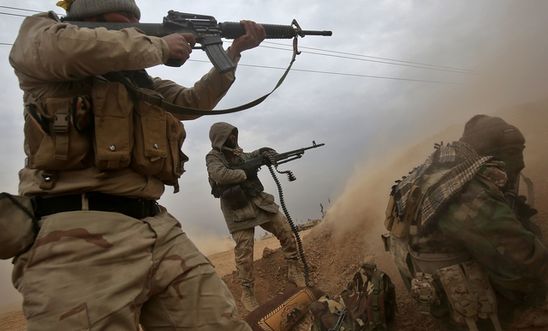 Members of a militia carrying out on assault on the town of Tal Afar in late November © AFP/Getty Images
Iraq is sixth largest arms importer of heavy weapons in the world
Predominantly Shia militias allied to Iraqi government have access to arms from at least 16 countries, including UK
The UK should halt all arms exports to Iraq unless it can demonstrate that it has reliable safeguards against British weaponry ending up in the hands of Iraqi government-supported militias with a grisly track record of human rights abuses, said Amnesty International today. 
Paramilitary militias nominally operating as part of the Iraqi armed forces in the fight against the Islamic State armed group are using arms from Iraqi military stockpiles - provided by the USA, Russia, Iran and others - to commit war crimes, revenge attacks and other atrocities, said Amnesty International in a new
report
today.
Field research and detailed expert analysis of photographic and video evidence since June 2014 has found that the Iraqi militias have benefited from the transfers of arms - manufactured in at least 16 countries. The militias that comprise the "Popular Mobilisation Units" (PMU) deploy more than 100 types of arms - from heavy weapons such as tanks and artillery, as well as a wide range of small arms, including standard-issue Kalashnikov and M-16 automatic rifles, machine guns, handguns and sniper rifles. These predominantly Shia militias have used the arms to carry out the enforced disappearance and abduction of thousands of mainly Sunni men and boys, as well as committing extrajudicial executions, acts of torture and the wanton destruction of property (see examples below).
While no evidence has yet been found indicating that UK-supplied weaponry has been misused by any of the dozens of militia groups operating in Iraq, Amnesty is stressing that the very clear risk of this happening must prompt action from the UK Government. In recent years the UK has supplied at least 800 machine guns and 550 sniper rifles to Iraq, with the UK Ministry of Defence saying these weapons were destined for Kurdish Peshmerga forces. In addition, official UK Government licensing data show that since 2014 licences have been issued for thousands of pistols and hundreds of assault rifles, sniper rifles and machine guns as well as their components. In many cases, official data accompanying these licences specifies that it is for a Government end-user In Iraq.
Amnesty is warning that without rigorous safeguards in place there is a serious risk that weapons sent to Iraq could fall into the hands of those with a record of human rights violations.
Amnesty International UK's Arms Control Director Oliver Sprague said:
 

"The militias' many abuses are being enabled by a vast arsenal of weaponry eagerly supplied by the Baghdad government.  

 

"The UK must urgently spell out what measures it has in place to make sure weapons it sends to Iraq don't end up in the hands of abusive militias.

 

"UK ministers like to talk about how their support for the Iraqi forces is taking the fight to ISIS, but they're silent on the multiple atrocities committed by the militias. 

 

"How can we be sure that the weapons we send to Baghdad aren't be used by vengeful militias right now to kill civilians in Iraq?"
Vast arsenal of weapons
Focusing on four main militias of the 40 or 50 distinct groups within the PMU - Munathamat Badr (Badr Brigades or Badr Organisation), 'Asa'ib Ahl al-Haq (League of the Righteous), Kata'ib Hizbullah (Hizbullah Brigades) and the Saraya al-Salam (Peace Brigades) - Amnesty's report shows how unchecked arms transfers have allowed the militias to terrorise civilian populations in their fight against ISIS. The predominantly Shia PMU militias have used their extensive arsenal of weapons to carry out or facilitate a systematic pattern of violations, seemingly as revenge in the wake of ISIS attacks. These include enforced disappearances, extrajudicial executions and other unlawful killings, as well as the torture of thousands of Sunni Arab men and boys.
A man from the city of Muqdadiya told Amnesty how his 22-year-old brother Amer was among 100 men and boys abducted from their homes in January 2016 when PMU militias went on the rampage in retaliation for a suicide attack on a Shia-owned café in the city. PMU fighters also burnt and destroyed Sunni mosques, shops and property. The man said:
"Many Sunnis were grabbed in the streets or dragged from their homes and instantly killed. In the first week of the events, militiamen drove around with speakers shouting for Sunni men to come out of their homes. On 13 January [2016], more than 100 men were taken and have not been seen since."
Sunni men and boys have routinely been subjected to torture and other ill-treatment at checkpoints and detention facilities controlled by PMU militias. In one case, a 20-year-old student told Amnesty that on 26 July he was fleeing fighting in Shargat when he was stopped at the Asmida checkpoint in Salah al-Din governorate. The forces controlling the checkpoint - a mix of men in civilian dress and others in military uniform, including some bearing PMU insignias - immediately blindfolded him and drove him away. He said:
"I spent seven weeks under torture; they wanted me to confess to being Daesh. I was held with about 30 other people in a school … We were all beaten with metal rods and cables. They also used electric shocks … I was blindfolded through most of this time … After 22 days, they transferred all of us to Baghdad to a prison … There were other people there, some detained for over six months and their families did not know anything about them … I was also tortured there, and interrogated once while blindfolded".
The man was eventually freed without charge. However, the fate and whereabouts of thousands of other Sunni men and boys who were seized by PMU militias remain unknown. Hundreds of Sunni men and boys have been abducted at the al-Razzaza checkpoint crossing alone by the Hizbullah Brigades since October 2014.
In September, Amnesty requested information from the Iraqi Ministry of Defence on the authorities' supply of weapons and military assistance to PMU militias and on existing accountability mechanisms. The request has gone unanswered.
Amnesty International's Arms Control and Human Rights Researcher Patrick Wilcken said:
"The Iraqi authorities have helped to arm and equip the PMU militias and pay their salaries -they must stop turning a blind eye to this systematic pattern of serious human rights violations and war crimes. The Iraqi authorities must put in place strict measures to ensure stockpiles of weapons are properly secured and monitored."
Militias supplied by Iraqi government military stocks
Since their establishment in mid-2014, the PMU have increasingly been supplied directly by the Iraqi authorities, from Iraqi military stocks. This includes a significant quantity of more recently manufactured NATO-pattern equipment, mainly from the USA, along with equipment from Russia and Eastern Europe. More than 20 countries have supplied Iraq with arms and ammunition over the last five years, led by the USA, followed by Russia. According to the Stockholm International Peace Research Institute, arms exports to Iraq increased by 83% between the periods 2006-10 and 2011-15. As of 2015, Iraq was the sixth largest arms importer of heavy weapons in the world.
The Iraqi armed forces' often haphazard and shoddy weapons tracking systems make it very difficult to trace where arms transfers go once they make it to Iraq. This, coupled with the fluid nature of the conflict, means that weapons frequently get captured or diverted to armed groups or militias currently active in both Iraq and Syria.
Amnesty's research shows how PMU militias have grown in power and influence since 2014. They receive arms and salaries from the Iraqi authorities, and have increasingly gone into battle or controlled checkpoints together with Iraqi troops. Under this cloak of official approval, some PMUs have been documented carrying out revenge attacks mainly targeting Sunni Arabs, and nobody is holding them to account.
The Iraqi authorities face tremendous security threats from ISIS, which continue to commit atrocities in areas under its control and to carry out deadly attacks on civilians elsewhere in Iraq. But measures responding to these threats must respect international human rights and humanitarian law. Amnesty is urging Iraq to immediately accede to the global Arms Trade Treaty, which has strict rules in place to stop arms transfers or diversion of arms that could fuel atrocities.
Iranian-backed militias
The sheer breadth of Iraq's arms suppliers has led to unintended consequences - for example, US armoured vehicles almost certainly intended for Iraqi forces have ended up in the hands of Kata'ib Hizbullah, a militia with ties to Iran that the US State Department has long classified as a "foreign terrorist organisation". Iran remains a major military sponsor of the PMU militias - particularly those with close links to Iranian military and religious figures, such as the Badr Organisation, 'Asa'ib Ahl al-Haq and the Hizbullah Brigades - all of which stand accused of serious human rights violations. These ongoing supplies are in breach of a 2015 UN resolution barring arms exports from Iran without prior approval from the UN Security Council.
Arms ending up ISIS hands
Amnesty new report follows its December 2015 report -
Taking Stock: The arming of Islamic State
- which showed how decades of poorly-regulated arms flows into Iraq as well as lax controls on the ground provided ISIS with an arsenal to commit war crimes and crimes against humanity on a massive scale in Iraq and Syria.