UK rises on World Press Freedom Index - but serious risks to journalists remain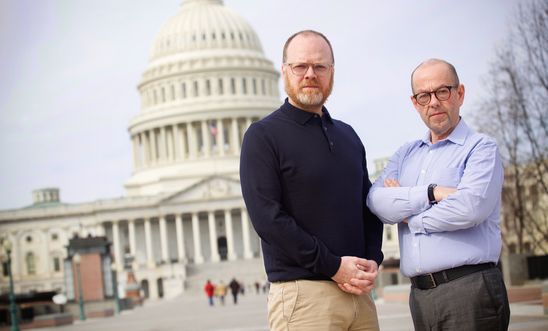 Journalists Barry McCaffrey and Trevor Birney face further police questioning.
Responding to the news that the UK is now ranked 33rd in the Reporters Without Borders World Press Freedom Index, Kate Allen, Director of Amnesty International UK, said:
"Although the UK has made minor improvements in terms of press freedom, Amnesty International still has serious concerns about journalists being targeted for their work uncovering human rights abuses.

"The sinister arrest of journalists Trevor Birney and Barry McCaffrey – facing the prospect of serious charges simply for their vital work in uncovering police collusion in the Loughinisland massacre in Northern Ireland – leaves us in no doubt that press freedom in the UK remains at risk.

"Globally, journalists and media outlets are under increasing attack for their essential work. Concerted international effort is needed to ensure the safety of media workers, and we need to see those who harass or attack them brought to justice."
Background
The UK rose seven places to number 33 on the Reporters Without Borders World Press Freedom Index, but authors warned the UK remained one of the worst-ranked western European countries "largely due to a heavy-handed approach towards the press, often in the name of national security".
The report also highlighted the case of Trevor Birney and Barry McCaffrey and added: "In September, journalists Trevor Birney and Barry McCaffrey were arrested in Northern Ireland, had their journalistic materials confiscated, and remain on police bail in connection with the police investigation into the 'Loughinisland massacre'."
Arrested and questioned
Trevor Birney and Barry McCaffrey were arrested on 31 August 2018 in connection with an alleged breach of the Official Secrets Act, relating to confidential documents about the police investigation of the murder of six men in a bar in the village of Loughinisland, County Down, in 1994.
A 2016 report from the Police Ombudsman for Northern Ireland found that there had been collusion between the Royal Ulster Constabulary and the Ulster Volunteer Force killers, and that the subsequent police investigation had been undermined by a desire to protect those responsible for the massacre.
The 2017 film, 'No Stone Unturned' – directed by Oscar-winning film-maker Alex Gibney – explored the unsolved killings and police investigation in detail, and named one of the alleged killers.
In August last year, it is estimated that up to 100 police officers from the Police Service of Northern Ireland and Durham Constabulary raided the journalists' homes and offices, seizing documents and computers, which the men are fighting to have returned.
Amnesty International UK are currently campaigning on their behalf as they remain on bail awaiting further questioning.