UK: Prime Minister's commitment to tackle domestic abuse must ensure protection for all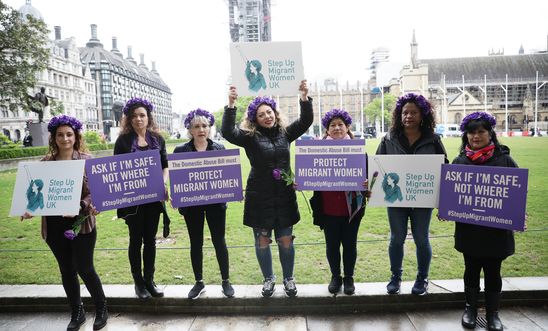 Responding to the Prime Minister's announcement that domestic abuse legislation will be reintroduced to Parliament in the Queen's Speech (14 October), Karla McLaren, Amnesty International UK's Government and Political Relations Manager, said:
"It will be a huge relief to many that much needed domestic abuse legislation will be brought back to Parliament, but this announcement must result in meaningful change for all survivors, particularly migrant women who currently find it virtually impossible to access any safety at all.

"So far the existing Bill has neglected to meet the specific needs of migrant women who find it hard to access life-saving services such as refuges and are often too scared to report abuse for fear they'll be referred to the Home Office and detained or deported.

"The Bill will fail unless it ensures all survivors - regardless of immigration status - are offered safety and protection.

"The Prime Minister and Home Secretary now have a chance to show they're truly on the side of survivors by introducing legislation that ensures migrant women are treated with humanity rather than suspicion."
Step Up Migrant Women
Amnesty International is part of Step Up Migrant Women (SUMW); a coalition led by the Latin American Women's Rights Service (LAWRS) of more than 40 organisations, including Liberty, Sisters For Change, Imkaan and the End Violence Against Women Coalition.
SUMW is campaigning to ensure meaningful protections for migrant, refugee and BME women survivors of domestic abuse who often slip through the gaps because of their particular experiences of violence.
The existing draft Domestic Abuse Bill will leave thousands of survivors without vital protections because of their race, ethnicity, nationality and/or immigration status. SUMW is urging the Government to end this discriminatory system and uphold fundamental human rights, by legislating for crucial safeguards in the domestic abuse legislation.
Take action here: https://www.amnesty.org.uk/actions/domestic-violence-bill-migrant-women-surviors