UK: Liz Truss statement on arms sales to Saudi Arabia 'deeply cynical'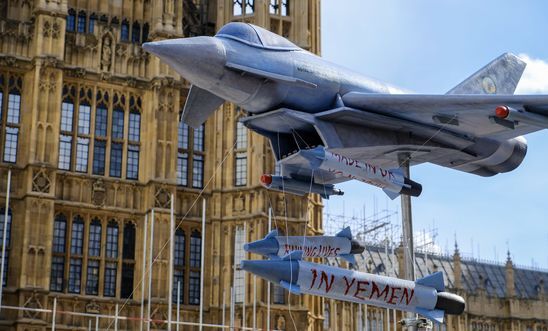 Campaigners with a replica of a Typhoon war plane outside the Houses of Parliament last year © Amnesty International
UK Government insisting previous Saudi violations in Yemen were 'isolated incidents'
UK has sold around £5bn of arms to Saudi Arabia during bloody Yemen conflict
'This seems like an attempt to rewrite history and disregard international law' - Kate Allen
Responding to a House of Commons statement today by the International Trade Secretary Liz Truss on UK arms sales to Saudi Arabia, Kate Allen, Amnesty International UK's Director, said: 
"This is a deeply cynical move to restart business as usual when it comes to Saudi arms sales. 

"How the Government can seriously describe a five-year Saudi-led aerial assault on Yemen which has seen numerous examples of civilians killed in schools, hospitals, funeral halls and market places as a set of 'isolated incidents' is almost beyond comprehension. 

"This seems like an attempt to rewrite history and disregard international law. 

"The UK is bypassing its obligations under the international arms control framework. Its approach to this decision has effectively rendered our own protections meaningless. 

"Like others involved with this case, we will be carefully considering this alarming statement from the International Trade Secretary and considering next steps. Meanwhile we're calling for a much-needed, root-and-branch overhaul of the UK's failing arms control system."
Today's decision signals the resumption of new licences for UK arms exports to Saudi Arabia despite a lack of due consideration of the widespread and systematic nature of violations of international humanitarian law by the Saudi-led coalition in Yemen - an issue the UK Government appears to be circumventing by insisting that previous violations have been only "isolated incidents". 
Court of Appeal decision
Last year, the Court of appeal ruled that the UK Government's decision to continue licensing exports of military equipment to Saudi Arabia had been unlawful as due consideration had not been given to whether incidents in Yemen amounted to breaches of international humanitarian law. The ruling came in a judicial review brought by Campaign Against the Arms Trade, in which Amnesty, Human Rights Watch and Rights Watch UK were interveners. 
During the past five years, Amnesty has repeatedly called on the UK Government to halt all arms sales to Saudi Arabia and the wider military coalition operating in Yemen because of the clear risk that they will be used to carry out violations of international humanitarian law in Yemen. Since the conflict in Yemen began in March 2015, the UK has sold approximately £5bn of arms to Saudi Arabia, including more than two dozen Eurofighter Typhoon war planes. The real value of the sales may be far higher, as large quantities of arms equipment are sold to the Saudi air force by UK companies like BAE Systems and Raytheon under so-called "open" export licences which do not provide figures, making it impossible to fully assess the scale of all the arms sold over this period.
Numerous suspected Saudi war crimes during 'forgotten war'
Yemen's armed conflict began in March 2015 after a multi-country military coalition led by Saudi Arabia and the UAE intervened with the declared aim of restoring the internationally-recognised government to power after an Huthi armed group took over the capital Sana'a in early 2015. Despite the disastrous consequences for civilians in the country, the conflict has often been described as the world's "forgotten war".
More than 200,000 Yemenis have been killed as a result of fighting or the humanitarian crisis which has ensued, and more than 20 million (out of a population of 29 million) need humanitarian assistance to survive. 
The UN, as well as international and Yemeni NGOs, have documented dozens of serious violations, including war crimes, by all parties to the conflict - including direct attacks on civilians, indiscriminate and disproportionate attacks, arbitrary detention, enforced disappearances, and torture and other ill-treatment. Amnesty has documented at least 41 airstrikes by the Saudi coalition that allegedly violated international humanitarian law, many of which could constitute war crimes. These attacks alone resulted in 512 civilian deaths and 433 civilian injuries.