UK has secret policy of mass surveillance of all residents' Facebook, Twitter, YouTube and Google use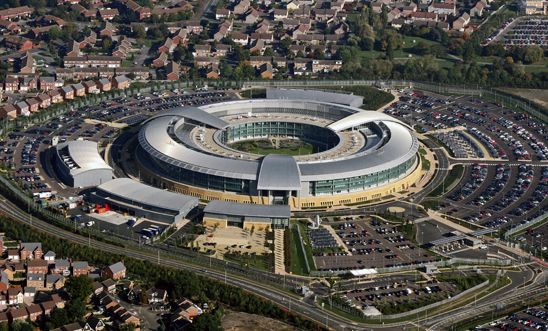 The Government Communications Headquarters base in Gloucestershire, England © David Goddard/Getty Images
Written statement from top counter-terrorism official shows for first time that GCHQ believes it has right to intercept all US web company traffic in UK
Britain's senior counter-terrorism official has been forced to reveal a secret government policy justifying the mass surveillance of every Facebook, Twitter, YouTube and Google user in the UK, a group of human rights organisations announced today.
In a recent written statement by Charles Farr - the Director General of the Office for Security and Counter Terrorism - sent to Amnesty International, Liberty, Privacy International, the American Civil Liberties Union and Pakistani organisation Bytes for All, it is clear that the UK intelligence agency Government Communications Headquarters (GCHQ) believes it is entitled to indiscriminately intercept web searches by British residents or communications between British residents. 
The 48-page statement was sent to the campaign organisations as part of an ongoing lawsuit which is seeking to establish the extent to which the UK government has been monitoring the organisations' online activity. Charles Farr, the government's key witness in a case to be heard by the Investigatory Powers Tribunal during 14-18 July, provides analysis for the first time showing how the government believes it can use a vague legal framework to scoop up posts, tweets, emails and web searches through its mass surveillance programme, TEMPORA. 
The government's approach, which to date has not been made explicit, defines almost all communications via Facebook and other social networking sites, as well as all web searches via Google, to be "external communications" because they use web-based "platforms" based in the USA. 
The distinction between "internal" and "external" communications is crucial in legal terms. Under the Regulation of Investigatory Powers Act (RIPA), which regulates the surveillance powers of public bodies, "internal" communications may only be intercepted under a specific warrant. These warrants should only be granted where there is some suspicion of unlawful activity. However, an individual's "external communications" may be intercepted indiscriminately, even where there are no grounds to suspect any wrongdoing. 
Amnesty International's Senior Director for Law and Policy Michael Bochenek said: 
"British citizens will be alarmed to see their government justifying industrial-scale intrusion into their communications. The public should demand an end to this wholesale violation of their right to privacy."
Liberty Legal Director James Welch said: 
"The security services consider that they're entitled to read, listen and analyse all our communications on Facebook, Google and other US-based platforms. If there was any remaining doubt that UK snooping laws need a radical overhaul, there should be no longer."
Privacy International Deputy Director Eric King said:
"Intelligence agencies cannot be considered accountable to Parliament and to the public they serve when their actions are obfuscated through secret interpretations of Byzantine laws."
The documents from Charles Farr suggest that:
GCHQ is intercepting all communications - emails, text messages and communications sent by "platforms" such as Facebook and Google - before determining whether they fall into the "internal" or "external" categories
The government considers that almost all Facebook and other social media communications and Google searches will always fall within the "external" category, even when such communications are between two people in the UK
Classifying communications as "external" allows the government to search through, read, listen to and look at each of them. The key restriction on what they do with communications that they classify as "external" is that they cannot search through such communications using keywords or terms that mention a specific British person or residents
Even though the government is conducting mass surveillance - intercepting and scanning through all communications in order to work out whether they are internal or external - they consider that such interception "has less importance" than whether a person actually reads the communication, which is where the government believes "the substantive interference with privacy arises"
The government believes that, even when privacy violations happen, it is not an "active intrusion" because the analyst reading or listening to an individual's communication will inevitably forget about it anyway
Farr's justification of mass surveillance and his explanation of the secret GCHQ policy is framed as a hypothetical justification of hypothetical activities. Despite the large volume of information and documents revealed by the US whistleblower Edward Snowden, the UK government maintain a "neither confirm nor deny" policy over the activities he has revealed. Among the documents leaked by Snowden is GCHQ legal advice in which its lawyers lauded the government's "light oversight regime compared with the US". 
Background
Under S.8(1) of the Regulation of Investigatory Powers Act 2000 ("RIPA"), internal communications between British residents located within the UK may only be monitored pursuant to a specific warrant. These specific warrants should only be granted where there is some reason to suspect the person in question of unlawful activity.
"External communications" may be monitored indiscriminately under a "general warrant" pursuant to S.8(4) of the RIPA. 
The Investigatory Powers Tribunal is the body which hears complaints relating to intrusive powers exercised under the RIPA, and is the only body that can investigate complaints about any alleged conduct by, or on behalf of, the Intelligence Services - the Security Service (MI5), the Secret Intelligence Service (MI6) and government Communications Headquarters (GCHQ). The IPT usually holds its hearings behind closed doors.
Privacy International is represented by Bhatt Murphy Solicitors, Dan Squires (Matrix Chambers) and Ben Jaffey (Blackstones Chambers).
Amnesty International is represented by Kirsty Brimelow QC and Jude Bunting (Doughty Street Chambers).