UK Government's torture review 'the wrong tool for the job'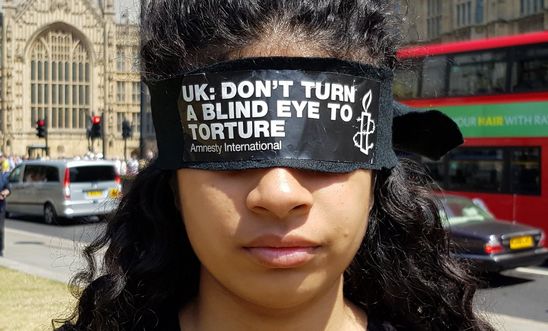 Blindfolded campaigners protest outside Parliament to call for a proper inquiry into UK torture involvement © Amnesty International
Responding to the publication today of two reports by the parliamentary Intelligence and Security Committee (ISC) into the UK's involvement in the torture of detainees overseas, Kate Allen, Amnesty International UK's Director, said:
"It is obvious that the ISC was prevented by the Government from producing a thorough report about what really happened – it says so itself.
"The ISC had no powers to summon witnesses or demand full evidence, and its findings were always subject to redaction and veto from the Prime Minister herself.
"Instead of the independent, judge-led torture inquiry promised by David Cameron, we've had an under-powered, over-controlled review by a committee that was never empowered to get the job done.
"While the Committee's report represents a helpful step forwards, it is not the definitive account of what really happened. It was always the wrong tool for the job.
"With the President of the United States personally praising waterboarding and the CIA led by someone closely linked to torture, now is not the time to brush this issue under the carpet. We need a full judge-led inquiry now."