UK: Government plotted propaganda campaign against Amnesty International over torture findings, Declassified files reveal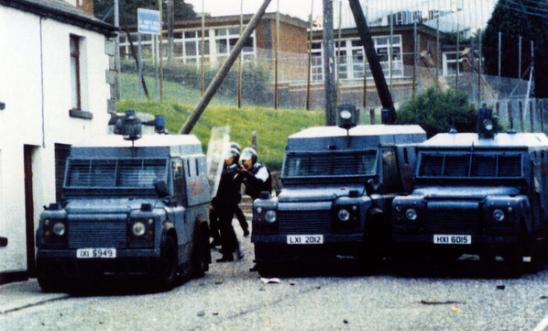 Northern Ireland 1996 © Private
Files from 1970s show that the Foreign Office plotted a secret propaganda campaign to discredit Amnesty report's author Thomas Hammarberg
'These damning files reveal a shameful determination to keep human rights abuses hidden and an unscrupulous Government prepared to use smear tactics as a cover-up' - Grainne Teggart
Declassified files from the early 1970s show that the UK government secretly sought to discredit Amnesty International's investigation into British torture in Northern Ireland it has been revealed in an exclusive investigation published in Declassified UK today.
In order to suppress an Amnesty International report on Britain's use of torture in Northern Ireland, the Foreign Office plotted a secret propaganda campaign to discredit Thomas Hammarberg, the report's author.
Declassified after 50 years, a British file unveils a sinister plan to target a future Nobel Peace Prize recipient, and shows how UK officials marked civil society for covert information operations with one official writing "we have information on Hammarberg". Much of what follows is redacted, leaving it unclear what information was being prepared for leakage to the press.
Grainne Teggart, Campaigns Manager at Amnesty International UK said:
"These damning files reveal a shameful determination to keep human rights abuses hidden and an unscrupulous Government prepared to use smear tactics as a cover-up. The UK government has a long, dark history of using propaganda to deflect from its human rights violations.

"Our mission in Northern Ireland in the 1970s led by our esteemed former colleague Thomas Hammarberg, was a watershed moment, and found the brutal use of torture by British state forces.

"Amnesty's assessment has not changed in the years since. and that the treatment of those we investigated amounted to torture has been confirmed in UK courts.

"It's appalling that the UK Government was attempting to undermine evidence of its use of torture by orchestrating a personal attack on a distinguished human rights investigator.

"The Government's desire to aggressively avoid any spotlight on truth, justice and accountability is still something we are fighting today. 

"The current Government is attempting to legislate for a de facto amnesty in relation to the conflict in Northern Ireland and put the perpetrators of crimes – both state and non-state – above the law and beyond accountability. This is part of a clear and chilling pattern to reduce our rights. The imminent plans to scrap and replace the Human Rights Act show the intent to diminish the ability of the public to hold the Government and public authorities to account."
More recent targeting of Amnesty by UK Government
In 2015, the Investigatory Powers Tribunal found that UK intelligence agencies had unlawfully spied on the communications of Amnesty International as well as another rights group, the South African organisation Legal Resources Centre. They were not required to reveal the scale, target, or duration of the illegal surveillance to which Amnesty was subjected.