UK: Government faces high court challenge over 'utterly shameful' £1,000 child citizenship fee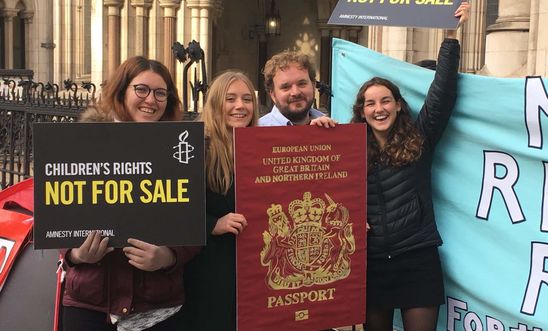 Landmark case against Government's 'profiteering' child citizenship fees to be heard this week 
Activists hand in 30,000-strong petition to Home Office calling for immediate end to the fee
Where: Royal Courts of Justice, Strand, London WC2A 2LL
What/when:
Tuesday 26 November 2019 at 09.30-10.00 hrs: photo opportunity –

Project For Registration of Children as British Citizens

and pro bono solicitors Mishcon de Reya,

alongside

Amnesty's Steve Valdez-Symonds, will arrive to court. Activists will hold banners reading 'Make Rights Real' and 'Children's rights are not for sale.'
10-10.30 hrs: court hearing begins
The Home Office is set to face a High Court challenge over the £1,012 fee it charges to register a child as a British citizen, after a judicial review of the charge was brought by the Project for the Registration of Children as British Citizens.  
Amnesty International UK has been supporting the litigation to challenge the profit-making element of the fee, calling for an immediate end to the Government's "shameless profiteering" off children's rights. Mishcon de Reya are providing pro bono support to the Project for the Registration of Children as British Citizens on the case.
With the current administrative processing cost at only £372 per application, a profit of £640 is made by the Home Office for the registration of each child.
The landmark case is being brought by two children, known as A and O, and will be heard in the High Court at a three-day hearing on 26-28 November. If successful, the final ruling could have implications for an estimated 120,000 people in the UK.
In a statement submitted as part of the proceedings, O, aged 12, says:
"I was born in England in 2007. I have never travelled to another country. I don't want to tell my friends that I am not British like them because I'm scared. I worry that if my friends find out, they won't understand that I really am British like them.
"I enjoy playing netball for my school team. My team have been abroad twice for netball tournaments, but I could not travel because I do not have my British passport.
"I was born here and feel all of me is British. This is my home. I've got nowhere else but here."
Solange Valdez-Symonds, Director at the Project for the Registration of Children as British Citizens, said:
"Tens of thousands of children who were born in this country are being charged exorbitant fees to register their citizenship rights. The futures of these children are slowly and silently being chipped away. Such barefaced profiteering from children by the Home Office is utterly shameful.
"Children's rights are not for sale. We hope the High Court challenge will rightly bring an end to this injustice."
Campaigners call on UK Government to stop blocking children's rights
Ahead of tomorrow's hearing, campaigners from Amnesty UK's Children Human Rights Network will hand in 30,000-strong petition to Home Office calling for immediate end to the fee.
The campaigners will be building a wall outside the Home Office with messages of support from activists across the UK [pictures available].
They will be joined by some of the children affected by the profiteering fee, including 16-year-old Daniel, who came to this country with his mother when he was three years-old and was granted his British citizenship last year, he said:
"My mother saved what she could but sometimes she didn't eat properly so she could do this. At the time we had some support from the council but my mother was not then permitted to work except unpaid as a volunteer with a charity. It has been really difficult for my mother."
Judicial review
The judicial review claim asks the Home Office to:
i) Set the registration fee at no more than the administrative cost;
ii) introduce a fee waiver for children who cannot afford the fee; and
iii) provide a fee exemption for children in local authority care.