UK Government 'deliberately and destructively' preventing child refugees from reuniting with their families - new report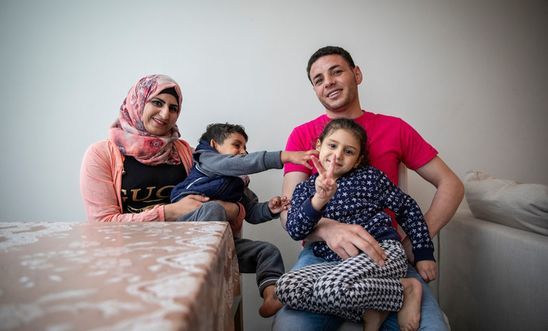 Rahaf, 25, and Monther, 30, from Syria and their children Aseel and Mohammad at their home in London, 10 June 2019 © Amnesty International
The UK Government is deliberately and destructively preventing child refugees from being with their families, Amnesty International UK, Refugee Council and Save the Children said in a new report today.
The 38-page report - Without My Family - shows how the UK Government's refugee family reunion rules - which block child refugees in the UK from being reunited with their families - are at odds with national law and a flagrant breach of international law, causing irreversible harm to children in this country.
Current UK law allows adult refugees rebuilding their lives in the country to sponsor their immediate family members to join them. Child refugees, however, are deprived of this right. The UK is one of the only countries in Europe to prevent child refugees from sponsoring their family members to join them.
Based on first-hand testimonies from children and young people aged 15-25 (all of whom arrived in the UK whilst under 18) the report details the devastating effects of family separation on children who have sought safety in this country, including constant anxiety, fear for their families' safety, and in some cases serious mental health consequences.
Habib*, 17, fled Sudan after being tortured and imprisoned at just 15 years old. He travelled to Libya, leaving behind his mother and younger siblings. In Libya he remained unsafe, treated so badly he still spoke of his flashbacks several years later. He finally found safety in the UK but remains separated from his family. He said:
"I haven't seen my family for nearly three years now. It is a long time and I miss my mum. It is really hard. It is something that you cannot forget about. You can cover it, but you can't forget…Being without your family, it is like you have a body without a soul."
Social workers and other professionals spoke of their distress at witnessing the children they care for having to cope without family. The report also points to the consistent criticism the Government's policy has been subject to, from senior judges to specialist Committees of parliamentarians and the Committee on the Rights of the Child.
In 2018, MPs from across the political spectrum voted with an overwhelming majority to change to these harmful rules. Despite this, the Government has continuously delayed and blocked the changes from happening. Amnesty International, Refugee Council and Save the Children are calling for urgent action to ensure child refugees are given equal opportunities to be with their families.
Kate Allen, Amnesty International UK's Director, said
"The UK Government is deliberately and destructively preventing child refugees from being reunited with their families. A simple change to the UK Government's policy would transform the lives of these children and help ensure they grow up safe and secure with the people they most need and love. "
Maurice Wren, Chief Executive of the Refugee Council, said:
"The UK's rules on refugee family reunion are a flagrant breach of the Government's legal obligations to act at all times in the best interests of the child. For many separated children, being reunited with family members is indisputably in their best interests, yet in the UK we choose to keep them apart for the inhumane reason that this might deter others from seeking safety and protection. Faced with the clear evidence in this report of the harm that enforced separation causes children, the Home Secretary should see reason and change these rules immediately."
Daniela Reale, Lead Child Protection and Children on the Move - Save the Children UK, said:
"There is clear evidence that keeping children separated from their families causes long-lasting psychological, health, social and developmental damage for children of any age. Children have a right to be with their families, and governments have an obligation to protect children. The UK must change the rules so child refugees can be reunited with their loved ones."