UK: Glasgow confirmed as host for next UN climate crisis summit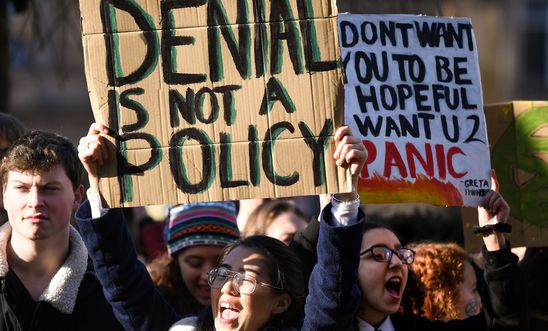 © Getty Images
Glasgow 2020 an 'unmissable opportunity to turn the tide' and avert escalating climate crisis - Kerry Moscogiuri
Responding to the announcement that Glasgow has been confirmed as host for the 2020 UN climate summit, Kerry Moscogiuri, Amnesty UK's Director of Supporter Campaigning and Communications, said:
"Climate change is becoming one of the greatest threats to human rights the world has ever seen.
"This escalating crisis threatens to undo our basic rights to life, water, food, and housing – with the world's poorest and most marginalised communities already bearing the brunt of its impact.
"In the three years since the landmark Paris agreement, governments have shown a wilful lack of progress and ambition towards tackling this mounting catastrophe.
"Glasgow 2020 will be an unmissable opportunity to turn the tide and work towards averting this growing crisis. Governments must ensure that next year's summit sees a step change in global ambition for how we tackle the climate crisis to stop global temperatures rising to irreversibly devastating levels.
"As host, all eyes will be on the UK and Scottish governments, so it's vital we lead the way in a bold and ambitious approach towards cutting emissions, including by ending all forms of support for fossil fuels. As the world's major financial centre, the UK could be instrumental in reinforcing the case for investors, bankers and insurers to stop financing and underwriting fossil fuel expansion and shift their capital to renewable energy projects that respect human rights. Mass fossil fuel consumption started in Britain with the industrial revolution, so Britain must look at its role in helping phase fossil fuels out."  
Growing repression of climate activism
The last few years have seen environmental activists around the world ramping up protests in a bid to pressure their governments into taking drastic action. But in response we have seen a worrying crackdown on peaceful protest and the growing repression of environmental activism. In many parts of the world environmental defenders are being killed for attempting to protect their environment, their land, their homes and their livelihoods. Thousands more are harassed, attacked and arbitrarily arrested by authorities who see them as a threat to their economic interests.
In 2015, French police misused counter-terror laws to put environmental activists under house arrest ahead of the Paris summit; and last year and Poland introduced a specific bill to clamp down on protests.
Kerry Moscogiuri, said:
"People are increasingly frustrated at the slow pace of change and are demanding more from their governments. Young people and grassroots activists are taking to the streets to demand action and shame governments for their wilful lack of ambition to tackle the climate crisis.
"It is vital that their voices are heard and not silenced.
"At next year's summit, the UK and Scottish governments must ensure that public protests and civil society participation are protected and not repressed. They must also ensure that they listen to the urgent climate alarm being sounded by people of all ages, in particular those who stand to be affected the most."
School strikes
The announcement of Glasgow 2020 comes ahead of planned mass global climate strikes on 20 and 27 September, with more than 2,400 events planned in 1,000 cities around the world. On Wednesday, Amnesty's Secretary General wrote to schools across the country urging them to 'neither prevent nor punish' pupils from taking part in the global days of strikes.