UK: Amnesty and Liberty stunt calls for dangerous bill of 'rights' to be scrapped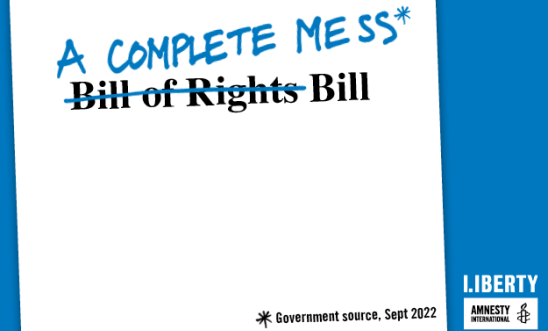 Two of the UK's biggest human rights organisations take over ads on ConservativeHome and LabourList to urge the Government ditch Bill of Rights Bill 
The Bill would rip up the Human Rights Act and remove key human rights protections in the UK
'This unworkable rights removal bill is not only a mess, it's a power grab by government wanting to insulate itself from the rule of law' – Sacha Deshmukh, Amnesty
'This Bill will take away rights from the most vulnerable in society, including disabled people' – Martha Spurrier, Liberty
Amnesty International and Liberty have joined forces in an advert take-over of ConservativeHome and LabourList today (15 Nov), urging the scrapping of Dominic Raab's Bill of Rights Bill, which is due to return to Parliament imminently.
The banner ads show the Bill of Rights crossed out and replaced by "a complete mess" - quoting a government source from September 2022 when the bill was shelved by Liz Truss – and aim to make MPs and peers aware of the dangers of this bill and the need to bin it.  
The bill - widely referred to as a Rights Removal Bill - threatens to remove key human rights protections by scrapping the Human Rights Act, which has protected lives, preserved liberties and enabled people to hold government to account for more than 20 years.
The removal of these protections would have horrifying consequences – without them, John Worboys' victims would not have been able to challenge police failure to investigate, COVID victims wouldn't have been able to demand a full inquiry to hold the Government to account, and victims of the Hillsborough tragedy would not have got justice.  
In a blog accompanying the advert, human rights groups Amnesty and Liberty say that claims the bill is necessary to fulfil a Conservative Party Manifesto pledge are incorrect. Former Justice Minister Gareth Johnson recently pointed out that the manifesto does not pledge to repeal and scrap the Human Rights Act, despite that being precisely what the Bill of Rights Bill would do if passed.  
The bill would undermine the UK's commitment to the rule of law by forcing UK courts to ignore European Court of Human Rights rulings and decisions, damaging human rights protection across Europe, and UK credibility at home and abroad. It would also breach the Good Friday Agreement, which requires the European Convention to be incorporated into UK law, including ensuring access to UK courts and proper remedies for human rights offences. 
Sacha Deshmukh, Chief Executive of Amnesty International UK, said: 
"Make no mistake – this is not a 'bill of rights', it's a 'rights removal' bill. The proposed legislation is a complete mess and must be scrapped. The last government recognised the bill for what it was and rightly binned the idea. For Rishi Sunak to bring it back to life now is outrageous. This move is a power grab by a government wanting to insulate itself from the rule of law, it undermines Northern Ireland's increasingly delicate peace and risks the UK's international standing.

"Our Human Rights Act has stood the test of time and has protected our freedoms – we can't stand by and watch the government steal our rights from us."
Martha Spurrier, Director of Liberty, said:
"Overhauling the Human Rights Act is not a manifesto commitment and would be the biggest blow to human rights in the UK in a generation. This rights removal bill will take away rights from all of us, including the most vulnerable in society. The plans would make it harder for people to get justice when there is wrongdoing, such as for disabled people who have used the Human Rights Act to challenge their disability benefits being removed or for the families of the 97 killed at Hillsborough who used it to find out the truth about what happened to their loved ones.

"The Government must once more scrap these plans, and instead ensure our human rights are safeguarded and protected."