UK: 1 in 5 speak to neighbour for first time as UK shows 'new levels' of compassion during lockdown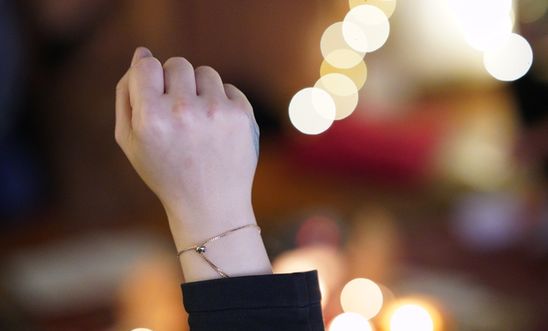 © Jenny Jacklin Stratton | ©Fearless Collective/Amnesty International
Estimated 30 million have taken part in Thursday 'Clap for Carers' initiative
New Amnesty poll shows huge numbers have helped a stranger, volunteered their time and reconnected with someone they'd previously lost contact with
5 easy ways to support others from your home
But Amnesty warns that "people's generosity is not a replacement for government action"
The UK public is showing impressive levels of solidarity, humanity and kindness amidst the coronavirus crisis, Amnesty International said today, as it released results from a new public opinion poll. 
A new Amnesty poll of 2,000 adults - conducted by Opinium - has revealed huge levels of compassion and care from the UK public during the COVID-19 pandemic. The results showed:
More than 30 million

(59%)

people have

clapped for key workers

on a Thursday evening

1 in 5

(19%) have

spoken to a neighbour they had not previously spoken with

More than 8 million

(16%) have

reconnected with someone

previously lost contact with

More than 6 million

(12%) have

volunteered time

to help people during the crisis

1 in 10

(10%) have

helped a stranger

with something related to the crisis
Five ways to make a difference from your sofa
Amnesty is encouraging people to take action to support others and ensure those in power are protecting the most vulnerable during this disconcerting time, and have suggested five easy actions - supported by players of People's Postcode Lottery - that people can take to make a difference from their sofa:
Ask the Government to protect the most vulnerable

during the pandemic, including frontline workers, domestic abuse victims, and refugees, by signing this

petition

.

Help British-Iranian Nazanin Zaghari-Ratcliffe

, who is currently on furlough from Iranian prison but due to be sent back on 20 May, by

demanding the Iranian Government #FreeNazanin

and sharing on social media. 

Make a poster for your window thanking essential workers

in your community for the hard work they're doing to keep people safe. 

Urge

 the Government to allow women in Northern Ireland to take both abortion pills at home

 so they can safely access the healthcare during lockdown.

Support Venezuelan journalist Darvinson Rojas

, who was arrested for reporting on coronavirus, by

calling on the President of Venezuela to drop the charges

.
Government must not lean on the public's generosity
Whilst the public continues to show huge levels of kindness and compassion, Amnesty is warning that Governments should not lean on people's everyday generosity and evade their responsibility to ensure that people are safe and protected.
Kate Allen, Director of Amnesty UK, said:
"The kindness that friends, family, neighbours and even strangers are showing each other is a beam of hope during this disconcerting time. These are new levels of compassion that we should take pride and comfort in.

"At Amnesty, we know the power that solidarity and humanity can have. When people are feeling alone, the knowledge that someone is thinking about them can make all the difference. 

"People's generosity is not a replacement for government action. The Government is ultimately responsible for keeping people safe and must take action to ensure everyone is protected.

"The more people who take action to support those in vulnerable positions - like signing a petition to put pressure on the Government - the more those in power will be forced to notice and act."
Sanjay Singh, Senior Programmes Manager at People's Postcode Lottery, said:
"The acts of kindness shown by communities and individuals across the UK has been heart-warming and uplifting.

"Solidarity is at the centre of Amnesty's work and we are delighted to be supporting them in spreading compassion and advocating for the rights of the most vulnerable at this difficult time."
Polling information: 
Opinium interviewed 2,000 UK adults online between 24 and 27 April 2020. Results were weighted to achieve a nationally representative sample.