Uganda: Authorities must set Bobi Wine free and drop fabricated treason charges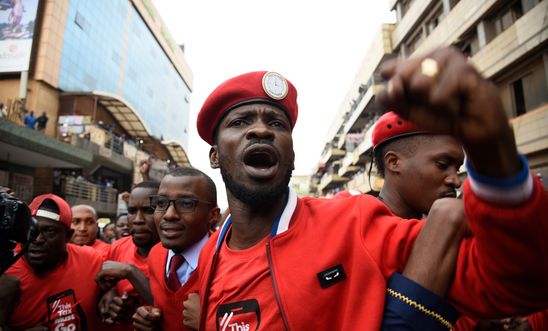 The Ugandan authorities must drop what appear to be trumped-up treason charges against opposition member of parliament Robert Kyagulanyi, also known as Bobi Wine, and immediately stop their brutal crackdown on opposition politicians and supporters, Amnesty International said today.
Joan Nyanyuki, Amnesty International's Director for East Africa, said:
"In addition to Bobi Wine, 33 others have been charged with treason in connection with the clashes that took place between supporters of the ruling party and the opposition. This appears to be little more than a witch hunt designed to silence political opposition in the country.

"These charges – for which no credible evidence has yet been produced – must be substantiated or dropped, and Bobi Wine released.

"This is a crude attempt by the Ugandan authorities to punish and stifle dissenting voices. The pattern of police aggression, mass arrests and the jailing of opposition political figures points to a systematic crackdown on those deemed to be challenging the authority of the President. It must stop."
Amnesty is calling for prompt, independent, impartial and effective investigations into reports of deaths of people during Arua political campaigns and protests calling for Bobi Wine's release. Ugandan authorities must also investigate torture allegations concerning Bobi Wine. Any officers found to be responsible for these crimes must be held accountable.
Freed and re-arrested
The earlier charges against Bobi Wine of being in possession of illegal firearms were dropped and the MP freed from military court this morning. Moments later, he was re-arrested and charged with treason in a civilian court.
Opposition politicians were placed under house arrest this morning to prevent them from attending Bobi Wine's court proceedings. Dr Kizza Besigye, one of the opposition leaders, attempted to leave his home and was arrested by the police.