UAE: call on Grand Prix drivers and fans to tweet support for jailed student Matthew Hedges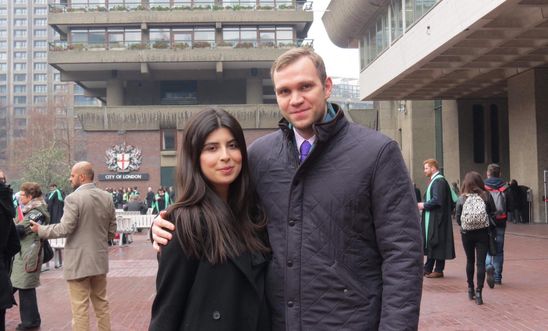 Matthew Hedges has been sentenced to life imprisonment, the latest unjust jailing in the UAE © Private
Abu Dhabi F1 race this weekend will see Emirati authorities attempting to promote glitzy image despite dark reality of jailed dissidents
 
'We can't allow the UAE to use the Grand Prix for yet more sportswashing' - Kate Allen
 
Ahead of the Abu Dhabi Grand Prix this weekend, Amnesty International is calling on Formula 1 drivers, their teams and motor racing fans to show their support for the jailed British student Matthew Hedges, along with others unfairly imprisoned in the UAE.
 
Mr Hedges, a University of Durham PhD student, was sentenced to life imprisonment on "spying" charges this week after a five-minute trial hearing during which his lawyer was not present.
 
Hedges, who was charged in relation to his academic research, was arrested in May and held in solitary confinement until last month when he was released on bail. Amnesty believes his trial was "grossly unfair" and his conviction "unsound", and the organisation is calling for Hedges to be released unless his fair trial rights are properly recognised.
Following meetings between UK Foreign Secretary Jeremy Hunt and Emirati government officials, the UAE's ambassador to the UK has said the UAE wishes to find an "amicable solution" to the case.  
 
Kate Allen, Amnesty International UK's Director, said:
 
"We'd like to see Lewis Hamilton, Sebastian Vettel and all the other drivers and their fans showing their support for Matthew Hedges and other unfairly jailed prisoners in the UAE.
 
"A supportive tweet from the likes of Lewis Hamilton could help keep the plight of unfairly-jailed prisoners in the minds of the Emirati authorities, not least as the UAE clearly sees the Abu Dhabi Grand Prix as part and parcel of the country's glitzy, modern image.
 
"Arrest, extended solitary confinement and sham trials are the dark reality for those who the authorities go after in the UAE - a far cry from the glamour of motor sport.
 
"We can't allow the UAE to use the Grand Prix for yet more sportswashing.
 
"The UAE authorities should immediately and unconditionally release all prisoners of conscience who have been detained solely for peacefully criticising the authorities."
Seven-year-long crackdown
Since 2011, the UAE authorities have embarked on a ruthless crackdown targeting human rights defenders, judges, lawyers, academics, students and journalists, apparently designed to stamp out all dissent in the country. Many of those arrested have been subjected to arbitrary detention, enforced disappearance, torture and unfair trials. As a result, critics and dissidents in the UAE are serving lengthy prison sentences simply for peacefully exercising their right to freedom of expression.
 
The UAE authorities regularly use criminal defamation, cyber and overly-broad anti-terrorism laws to detain, prosecute, convict and imprison government critics and prominent human rights defenders.
 
In addition to calling for justice for Matthew Hedges, Amnesty is campaigning for the release of the following prisoners of conscience in the UAE:
 
Ahmed Mansoor is a prominent human rights defender who received the prestigious Martin Ennals Award for Human Rights Defenders in 2015. He has documented the human rights situation in the UAE since 2006. Up until his arrest in March 2017, Mansoor was the last remaining human rights defender in the UAE who had been able to criticise the authorities publicly. He was tried and convicted on charges including "insulting the status and prestige of the UAE and its symbols", including its leaders, "publish[ing] false information to damage [the] UAE's reputation abroad", and "portray[ing] the UAE as a lawless land". He was sentenced to ten years' imprisonment on 29 May this year.
 
Dr Mohammed al-Roken is a prominent human rights lawyer and former president of the UAE's Jurists Association who was arrested in 2012. The following year he was sentenced to ten years' imprisonment following the grossly unfair trial of 94 reform advocates (known as the "UAE 94" trial). Many of the UAE 94 have alleged in court that they were tortured or otherwise ill-treated in pre-trial detention, where they were often held incommunicado for months in secret State Security detention facilities.
 
Osama al-Najjar was arrested in March 2014 and sentenced to three years in prison after sending tweets to the Minister of Interior expressing concern that his father (see below) had been ill-treated in prison. He was due for release from al-Razeen Prison in Abu Dhabi in March 2017, having fully served his prison sentence. However, the State Security Chamber of the Federal Supreme Court decided to extend his detention at the request of the Public Prosecution on the pretext that he remained a threat and therefore should be detained in the Counseling Center, another area within the prison.
 
Science teacher Hussain Ali al-Najjar al-Hammadi is Osama al-Najjar's father. He was arrested on 16 July 2012. He was sentenced to ten years' imprisonment in the "UAE 94" trial, and to a further 15 months in the trial of 20 Egyptian and ten UAE nationals.
 
Dr Nasser bin Ghaith was sentenced to ten years' imprisonment in March 2017 by the Federal Appeal Court in Abu Dhabi. He was tried and convicted on charges including "posting false information" about UAE leaders and their policies, based on comments he made on Twitter stating that he had not been given a fair trial in a 2011 case that included Ahmed Mansoor and three other Emiratis known as the "UAE 5" case. Dr Nasser bin Ghaith has also been convicted of "communicating and co-operating with members of the banned al-Islah organisation", in connection with meetings he had with individuals allegedly linked to the organisation.