Two Amnesty staff members expelled from Morocco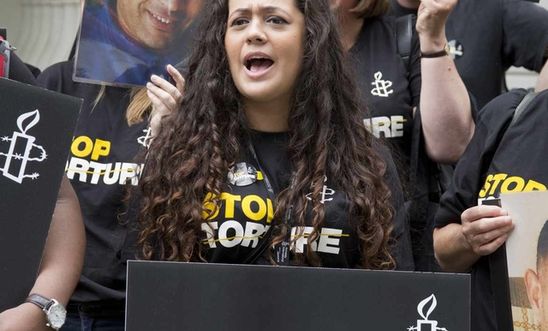 Campaigners for Moroccan torture victim Ali Aarrass outside the Moroccan Embassy in London last year © Amnesty International
Expulsions come after country named as key target of Stop Torture campaign
The expulsion of two Amnesty International experts from Morocco is a blatant attempt to prevent legitimate human rights research and muzzle criticism in the country, said Amnesty International. 
Moroccan police held John Dalhuisen, Amnesty's Director for Europe and Central Asia and Irem Arf, Refugee and Migrant Rights Researcher, separately yesterday. Both had their passports confiscated and were questioned at police stations in Rabat and Oujda, respectively, before they were put on separate flights to London and Paris. 
The Amnesty team was expelled despite having informed authorities of their planned visit. Amnesty has received written and verbal assurances - most recently in May in a meeting with Moroccan officials - that it could visit the country without being required to obtain prior authorisation. They had arrived in Morocco on Monday for a fact-finding visit to investigate the situation of migrants and refugees at Morocco's northern borders with Spain. 
Moroccan police stopped Irem Arf and her translator at around 11.40 in Oujda. Her passport was confiscated and she was held by police and questioned for hours including about whom she was intending to meet. She was then informed that she would have to leave the country. Around 14.00 she was driven to the airport where she remained under police observation until she was put on a flight departing to Paris this evening. 
John Dalhuisen was picked up in his hotel by police in the capital Rabat at around noon. He was detained at a police station where he was questioned politely but for more than four hours. He received an expulsion order which gave as official grounds "a threat to public order" and barred him from re-entering the country. 
Amnesty International's Senior Director for Research Anna Neistat said:
"Morocco's lofty words about being an open country have been exposed as hollow by their actions yesterday.

 

"The decision to expel our staff from Morocco as they began their investigations into the human rights situation of migrants and refugees raises serious suspicions that the authorities have something to hide.

 

"Moroccan authorities' attempts to thwart Amnesty International's work in the country, and our ability to investigate alleged human rights abuses, takes place against a backdrop of growing restrictions on local human rights groups.

 

"Rather than expelling us, Moroccan authorities should show they have nothing to hide by granting human rights researchers unfettered access to those most vulnerable to abuse." 
Stop Torture campaign work on Morocco
This is not the first time that Amnesty's work in Morocco has been hampered. Last September the Moroccan authorities banned an Amnesty youth camp, and denied entry to an Amnesty fact-finding delegation the following month. A second fact-finding visit scheduled for November was cancelled by the organisation after the Moroccan authorities sought to impose conditions on how it could operate. Amnesty was previously denied access to Morocco for three years, between 1990 and 1993. Since then the organisation had not experienced any restrictions on visiting the country until October last year. The relationship between the organisation and Moroccan authorities deteriorated markedly after the launch of Amnesty's Stop Torture Campaign in 2014 which detailed Morocco's continued use of torture. Last month Amnesty published a
90-page report on torture in Morocco
, focusing on 173 cases of alleged torture.