Turkey: Released Amnesty chair thanks supporters for international solidarity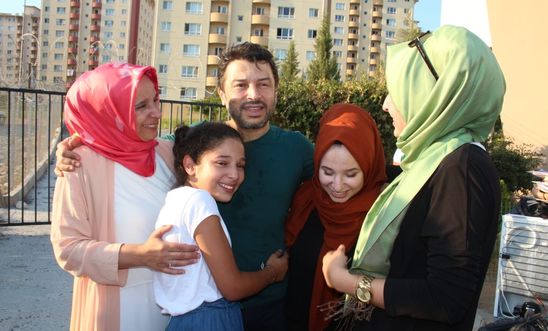 Taner Kilic and his family after his release on Wednesday 15 August
Taner Kılıç, the Honorary Chair of Amnesty International Turkey who was released yesterday after more than 14 months behind bars, has said thank you to everyone who campaigned on his behalf.
Taner Kılıç, whose trial will resume on November 7, was reunited with his family late yesterday after being released by a court in Istanbul.
Taner said: "I want to thank everyone for the international solidarity they have shown towards me.

"To everyone who sent me countless letters from around the world – cards from Canada to Japan, from Norway to Benin – I want to express my deep gratitude.

"While in prison, these actions lifted my spirits and reminded me of the importance of international solidarity in the struggle for human rights."
Taner was was arrested in June 2017 on baseless charges of "membership of a terrorist organization". He was accused of using an encrypted messaging app called Bylock, which the Turkish government said was used by members of the banned Fetullah Gulen group. Two police reports and four independent forensic analyses found no trace of ByLock on his phone.
Taner said: "Despite the fact that there was not a single reason for my imprisonment, I was jailed for more than 14 months. I was jailed despite the fact that I did not use ByLock.

"I think the campaign for my release has helped to shine a light on all those people who have been the victims of politically-motivated unfair prosecutions in Turkey.

"I believe it has created a higher level of awareness around the world. Those months in jail were an utter waste but I hope they were ultimately worth something. I hope that justice will prevail and that everyone will be given a fair trial.

"Fourteen months behind bars feels like a very long time. I am still feeling a little stunned. I think it will take me some time to process it, but this is the best Eid celebration we could have hoped for."