Turkey: Police report finds no evidence to substantiate claims against Amnesty Chair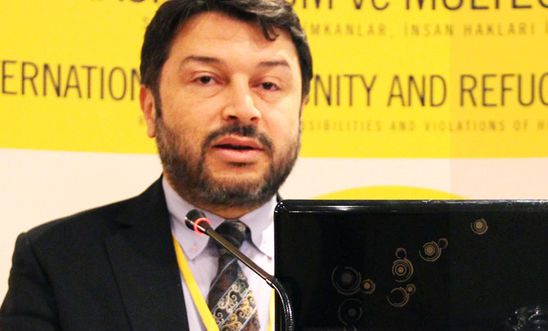 Amnesty International Turkey Chair, Taner Kılıç © Amnesty International
'Without a shred of credible evidence presented to substantiate the absurd charges made against him, Taner must now be released' - Salil Shetty
A newly submitted police report fails to find any evidence to substantiate the central accusation against Amnesty International Turkey's Chair, Taner Kılıç, who was arrested over a year ago on "absurd" charges.
The 15-page report submitted to the prosecution this month shows no evidence that Kılıç ever had ByLock on his phone. The alleged presence of the encrypted mobile messaging app was used to charge Kılıç with 'membership of a terrorist organisation' in June last year.
After more than a year, the Turkish authorities have still not been able to provide any credible evidence to substantiate this allegation, or any criminal wrongdoing.
The long-awaited police report - seen by Amnesty – details the forensic examinations carried out on Taner Kılıç's laptop, mobile phone, three USB sticks, a SIM card and a memory card. ByLock does not appear on the list of items found on the phone, including the deleted applications.
The report comes after four independent forensic analyses of his phone also found no evidence of the application ever having been on his device. Amnesty is again calling for Kılıç's immediate release and acquittal.
Salil Shetty, Amnesty International's Secretary General, said:
"The failure to substantiate the accusation against Taner comes as no shock. What is shocking is that it has taken more than a year for this police report to be submitted, and during that time Taner has been locked behind bars.
"Without a shred of credible evidence presented to substantiate the absurd charges made against him, Taner must now be released. The charges and his detention fly in the face of justice and must be brought to an end once and for all.
"Taner has become a potent symbol of what is happening in today's Turkey where many human rights defenders spend their days either languishing in jail or living in constant fear of being imprisoned for months or years. It is high time to end this relentless crackdown on human rights."
Kılıç's trial, and that of 10 other human rights defenders, resumes in Istanbul on 21 June.
Taner Kılıç, was detained on 6 June 2017 and sent to jail three days later, where he has been ever since. Ten other activists, including İdil Eser, Amnesty Turkey's Director, were detained a month later. Eight of them were held for almost four months before being released on bail at their first hearing in October.
Last December, Turkish authorities admitted that thousands of people have been wrongly accused of downloading ByLock. They published lists containing the numbers of 11,480 mobile phone users, leading to mass releases. Taner Kılıç is not yet among those listed for release.
Turkey's climate of fear
Earlier this year, an Amnesty report, Weathering the storm: Defending human rights in Turkey's climate of fear, revealed how few areas of Turkey's once vibrant independent civil society have been left untouched by the ongoing crackdown, with mass arrests, a silencing of activists in the country and the near-destruction of Turkey's entire legal system.
Amnesty's report shows how anti-terrorism laws and trumped-up coup-related charges have been used to target and silence peaceful, legitimate dissent in Turkey. Since the state of emergency was declared, journalists, academics, human rights activists and many others have been subject to arbitrary detention, prosecutions and long prison sentences.
Under the clampdown more than 100,000 people have faced criminal investigations and 50,000 remain in prison pending trial. Meanwhile, more than 107,000 public sector employees have been arbitrarily dismissed.