Turkey: Government crackdown has created 'suffocating climate of fear'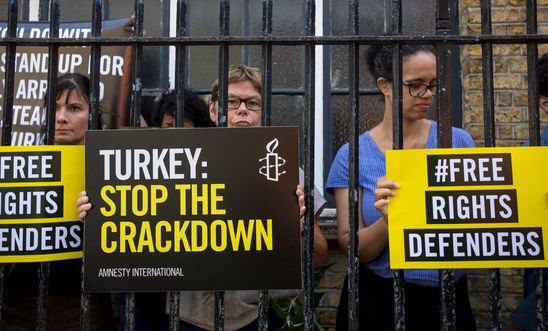 Journalists and other members of civil society have taken the full brunt of Turkey's post-coup crackdown © Amnesty International
New report on prosecution, detention, intimidation and mass arrests in the country since 2016
"Turkish authorities have deliberately and methodically set about dismantling civil society" - Gauri van Gulik
The crackdown on civil society in Turkey since a state of emergency was declared almost two years ago has created a "suffocating climate of fear", Amnesty International said today in a new report (26 April).
The report - Weathering the storm: Defending human rights in Turkey's climate of fear - shows how the nationwide crackdown has resulted in mass arrests, a silencing of activists in the country and the near-destruction of Turkey's entire legal system. 
The state of emergency - declared in July 2016 as a temporary measure following the failed coup attempt - was renewed for a seventh time last week. Under the clampdown more than 100,000 people have faced criminal investigations and 50,000 remain in prison pending trial. Meanwhile, more than 107,000 public sector employees have been arbitrarily dismissed.
Gauri van Gulik, Amnesty International's Europe Director, said:
"Under the cloak of a state of emergency, the Turkish authorities have deliberately and methodically set about dismantling civil society, locking up human rights defenders, shutting down organisations and creating a suffocating climate of fear.
"Extraordinary measures are becoming increasingly normalised in Turkey. Yet in spite of the pernicious, deliberate and targeted onslaught against individuals and groups, there are still brave people in Turkey willing to stand up and speak out.
"The international community should stand with them and call on the Turkish authorities to lift restrictions on civil society organisations, end the crackdown on freedoms and lift the climate of fear and intimidation."
Prosecution and detention
Amnesty's report shows how anti-terrorism laws and trumped-up coup-related charges have been used to target and silence peaceful, legitimate dissent in Turkey. Since the state of emergency was declared, journalists, academics, human rights activists and many others have been subject to arbitrary detention, prosecutions and long prison sentences.
Many of the country's most prominent journalists and human rights defenders, including Taner Kılıç, chair of Amnesty International Turkey, have been jailed on groundless "terrorism" charges.
In February, journalists Nazlı Ilıcak, Ahmet Altan and Mehmet Altan were given life sentences without parole for "attempting to overthrow the constitutional order", simply for conducting their journalistic work. Human rights lawyer and columnist Orhan Kemal Cengiz is threatened with a similar sentence for his critical comments on social media, at speaking events and in his columns - a decision on his case is expected next month.  
For the report, Amnesty interviewed human rights activist Dr Şebnem Korur Fincancı,  who said: "I have a small bag ready at home" in case of arrest.
Osman İşçi, General Secretary of the Human Rights Association also told Amnesty:
"The aim is to maintain the climate of fear. It is arbitrary. It is not predictable. It cannot be effectively challenged so there is impunity."
Intimidation and the silencing dissent
Amnesty's report reveals the effect the crackdown on dissent has had on freedom of expression across the country.
Lawyer and human rights defender Eren Keskin, who is facing 140 separate prosecutions, a travel ban and prison sentences pending appeal, told Amnesty:
"I try to express my views freely but I am also acutely aware of thinking twice before speaking or writing."
Following the Turkish military offensive in Afrin, in northern Syria in January, hundreds of people who expressed their opposition to the intervention were targeted. Data from the Ministry of the Interior revealed that by the following month 845 people had been detained for posting on social media, 643 subject to judicial proceedings and 1,719 had social media accounts put under investigation.
One human rights activist, Ali Erol, was held in police custody for five days after tweeting an image of an olive tree alongside anti-war hashtags. He is facing a criminal investigation for "propaganda for a terrorist organisation" and "inciting the people to hatred and enmity."
Meanwhile, in March more than 20 students were taken into police custody for participating in a campus-based anti-war protest. Ten were subsequently remanded in prison pending trial.
NGO crackdown
Under the state of emergency more than 1,300 NGOs have been permanently closed down for unspecified links to "terrorist" organisations. They include organisations that carried out vital work supporting groups such as survivors of sexual and other gender-based violence, displaced people and children.
The Van Women's Association which offered support to women in hard-to-reach rural communities in eastern Turkey was one of those closed. Zozan Özgökçe of the Van Women's Association told Amnesty:
"There is now a huge gap in the provision of advice and support to survivors. It really breaks my heart."
LGBTI organisations also speak of being pushed "underground", as public events such as gay pride marches and film festivals have been banned in several cities. One activist told Amnesty:
"Today most LGBTI+ people in Turkey are living in more fear than ever before. With the overall crackdown on freedom of expression, LGBTI+ people feel that the spaces for them to be themselves are drastically shrinking."